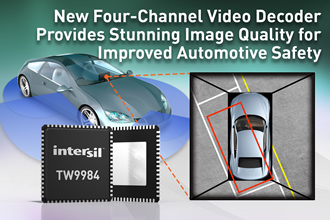 TW9984 analogue video decoder replaces up to nine discrete components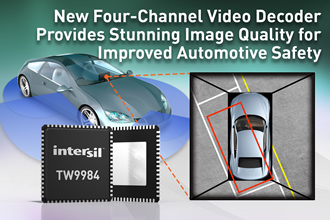 Designed to improve safety for drivers and pedestrians, a four-channel analogue video decoder with a built-in analogue video encoder, has been released by Intersil. The TW9984, which replaces up to nine discrete components with a single chip, generates 360° surround images for ADAS.
The device not only allows drivers to see objects behind them but also around them. An around-view monitor system processes video from four cameras and then combines the four images into a single birds-eye, top-down view. This enables easy manoeuvring and parking.
To support four analogue camera inputs simultaneously, the TW9984 integrates four high quality NTSC/PAL analogue video decoders with 10-bit ADCs. The digital output interface sends the images to a processor, which combines them into a single unified around-view image. The on-chip analogue video encoder transmits the combined video as a standard analogue composite signal to the head unit display. To further reduce component count, the video decoder incorporates analogue anti-aliasing filters on each channel input.
According to the National Highway Traffic Safety Administration, rearview cameras can reduce back-over fatalities by more than 50%. Therefore, automotive image sensor penetration in vehicles is increasing, with ABI Research expecting shipments to reach 197m by 2020.
"The decoder's innovative architecture and high level of integration enables an ultra-clear image to increase driver and pedestrian safety, as well as avoid vehicle damage," said Philip Chesley, Senior Vice President, Precision Products, Intersil.
The TW9984 four-channel analogue video decoder and encoder is available now in a 10x10mm, WQFN package, priced at $5.00 each and sold in 1,000-piece quantities. The TW9984AT-NA1-EVAL evaluation board for use with the device and is offered with a user manual, schematics and firmware.