Verizon now lets Minecraft players make in-game calls
Minecraft lovers, rejoice. Gamers can now make calls directly from their Minecraft game thanks to Verizon. Until now, Minecraft lovers could build a phone, but it had absolutely no functionality.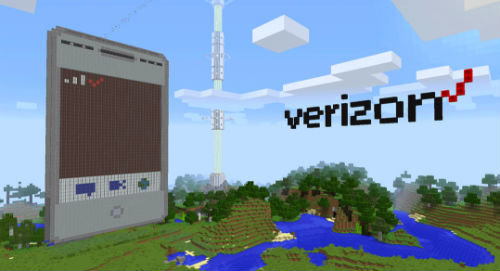 Since everything in Minecraft is constructed from blocks, the folks at Verizon created Boxel, a web application that translates real web pages and streaming video into blocks so they can be built on a Minecraft server in real time.
What Verizon really did was make it possible for players to make in-game calls, send texts, and even browse the web – all from within Minecraft.
If you're making a call in the game, you won't be using an actual phone number, instead the computer's camera and mic will be tapped so you'll see your friends' faces translated into Minecraft blocks in a real time video call. By combining the in-game phone with a stick, players can create selfie sticks, take selfies, then text them out to whoever they'd like. Verizon also built a browser that connects directly to the Internet and translates web pages into blocks so they can be viewed on the in-game phone which means players can load any page from the Internet and scroll through in its entirety.
If you're interested in setting up your own phone in Minecraft, Verizon says to visit Boxel and Boxel-client on GitHub for more documentation to help you get started.
Verizon's Minecraft server is currently in Beta where two Minecraft experts have been testing it out (see video above).
For more information visit VerizonCraft.