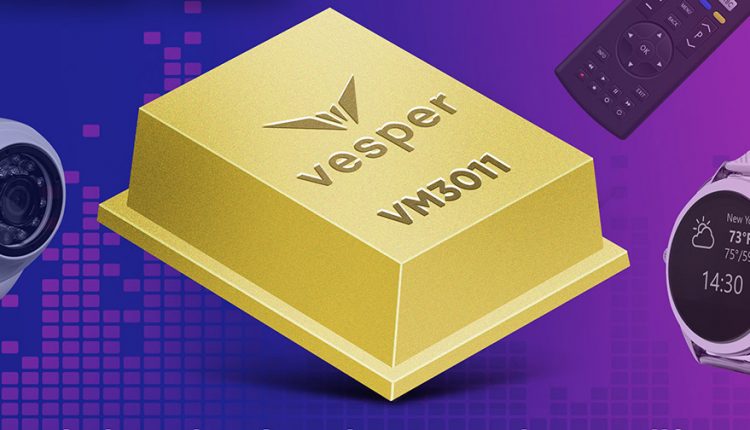 Vesper has introduced the VM3011, an intelligent digital microphone with Adaptive ZeroPower Listening, a disruptive power saving architecture that aims to enable a ten times extension of battery standby life with acoustic performance. The VM3011 further extends Vesper's technology leadership in the low-power always-listening device market.
The VM3011 expands the successful family of products based on Vesper's patented piezoelectric MEMS transducer technology. The Adaptive ZeroPower Listening technology will automatically learn the acoustic characteristics of the environment in real-time, allowing the system to ignore background noise and only wake in response to keywords or other desired acoustic triggers. This allows the system to hibernate over 90% of the time and extend battery life.
"Existing always-listening systems run continuously and must be plugged into an electrical outlet. The VM3011 creates a new paradign where these sytems can now run for months or years on battery power," said Matt Crowley, CEO of Vesper. "This technology will power a new class of products such as always-listening far field TV remotes, always-listening smartwatches, home security cameras and doorbells with extended battery life and many other systems. Vesper has already engaged with lead customers who plan to roll out products with the VM3011 later this year."
Target applications for the VM3011 include IoT products, portable smart speakers, smartwatches, far field remote controls, security cameras, glassbreak sensors, automotive, medical devices and other battery powered systems.
Environmental Robustness: The VM3011 has native IP57 rating for operation in environmentally robust applications.  The microphone does not require any external protective mesh. This translates to saving device manufacturers' costs, but also increases the acoustic performance of the end application.
Dust and water tests were performed according to the highest standards, and Vesper was the only microphone company to achive a zero-failure rate after being fully submerged in water and subject to extensive dust/harsh environmental testing.