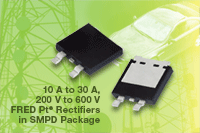 Vishay Intertechnology 10 A to 30 A FRED Pt® Rectifiers in SMPD Package Offer Increased Power Density and System Efficiency
MALVERN, Pa. — Vishay Intertechnology, Inc. (NYSE: VSH) today introduced 16 new 10 A to 30 A FRED Pt® Hyperfast and Ultrafast recovery rectifiers in the low-profile SMPD (TO-263AC) package. Combining extremely fast and soft recovery characteristics with low leakage current and low forward voltage drop, the Vishay Semiconductors rectifiers reduce switching losses and over-dissipation in automotive and telecom applications, while providing a high-density alternative to the TO-263 (D2PAK) package.
Available in AEC-Q101-qualified and standard versions, the FRED Pt rectifiers released today offer reverse voltages of 200 V and 600 V; reverse recovery time down to 25 ns; and typical forward voltage drop down to 0.75 V in single- and dual-die configurations. Footprint-compatible with the TO-263 (D2PAK) package, the devices offer a lower package height of < 1.7 mm for increased power density and efficiency and to enable slimmer end products.
Specified for output and snubber operation, the FRED Pt rectifiers are optimized for DC/DC converters, power factor correction (PFC), low-voltage inverters, and chopper motor drives in automotive engine control units (ECUs), antilock braking systems (ABS), LED lighting, and HID lighting, in addition to telecom DC/DC bricks. The devices feature a planar structure and platinum-doped lifetime control to guarantee high overall performance, ruggedness, and reliability characteristics in these applications. The components offer an operating junction temperature from -55 °C to +175 °C for a more robust design.
The devices provide an MSL moisture level of 1 per J-STD-020, LF maximum peak of +260 °C, meet the JESD 201 class 2 whisker test, and are RoHS-compliant and halogen-free. The rectifiers are ideal for automated placement and allow for automated optical inspection (AOI) in automotive systems.
Device Specification Table:
Samples and production quantities of the new FRED Pt rectifiers are available now, with lead times of nine weeks for larger orders.