Volkswagen presents fully connected electric minivan BUDD-E at CES 2016
Yesterday in Las Vegas, automaker Volkswagen conducted the worldwide premier of its zero-emission BUDD-e van with full connectivity.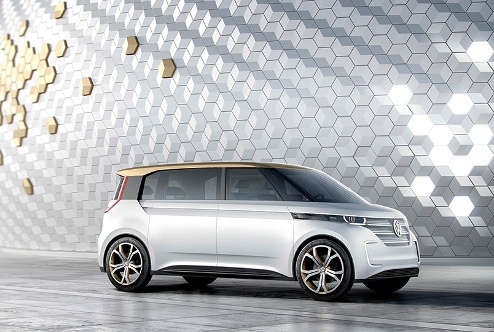 BUDD-e is based on the Modular Electric Drive Kit (MEB) and the company is calling it the next big step for electric vehicles.
At the show, the Chairman of the Board of Management of the Volkswagen brand, Dr. Herbert Diess, addressed a crowd of 2,300 visitors, saying that "the BUDD-e is a realistic trend setter".
The vehicle's newly developed electric drive enables a driving range of up to 233 Miles (EPA estimated real-world driving range) and its all-wheel drive vehicle's system has a total power output of 235 kW/317 PS.  BUDD-E's batteries are located in the floor of the car and can charge to 80% in about 30 minutes.
"We are developing completely new and unique vehicle concepts – especially designed for long-distance electromobility," said Dr. Diess.
At the show, the company also revealed a second piece of technology to follow BUDD-E release — the e-Golf Touch, which is based on the production model.  The touch display merges the worlds of smartphones and automobiles with its gesture control and a further developed version of the Modular Infotainment Toolkit (MIB) with a 9.2-inch display.