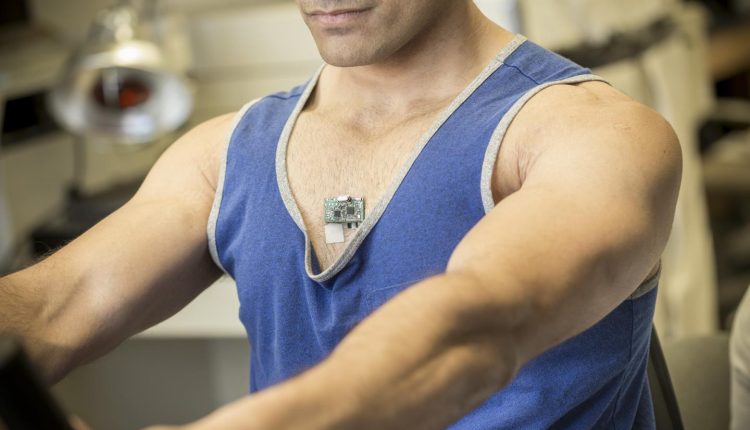 Wearable patch monitors heart and biochemical signals
Wearable devices are exploding on the market these days. While they're great at providing users with different kinds of information, they typically only report one kind signal at a time.
Now, engineers at the University of California San Diego have developed the first flexible wearable device capable of monitoring both biochemical and electric signals in the human body simultaneously.
The Chem-Phys patch records electrocardiogram (EKG) heart signals and also tracks a biochemical marker of physical effort, in real time.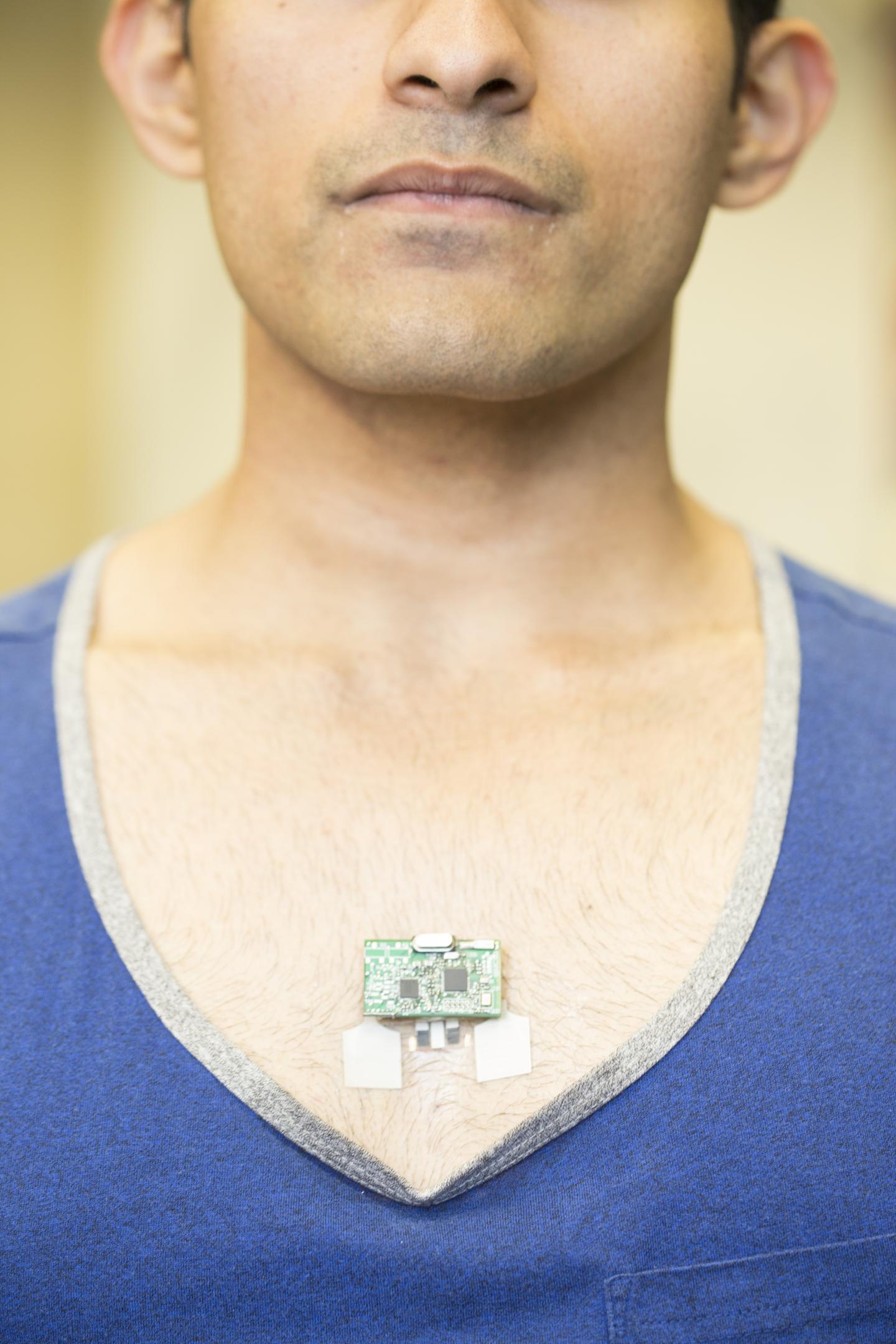 The device, which can be placed right on the chest like a band-aid, connects to a user's smartphone, smart watch or laptop and has a plethora of applications, such as athletic monitoring to health monitoring for heart patients.
At the UC San Diego Center for Wearable Sensors, electrical engineers and nanoengineers worked together to develop the device, comprised of a flexible sensors and a small electronic board that can transmit the data from biochemical and electrical signals via Bluetooth.
Nanoengineering professor Joseph Wang and electrical engineering professor Patrick Mercier at the UC San Diego Jacobs School of Engineering led the project, with Wang's team working on the patch's sensors and chemistry, while Mercier's team worked on the electronics and data transmission. They describe the Chem-Phys patch in the May 23 issue of Nature Communications.
"One of the overarching goals of our research is to build a wearable tricorder-like device that can measure simultaneously a whole suite of chemical, physical and electrophysiological signals continuously throughout the day," said Patrick Mercier, Professor of Electrical Engineering at UC San Diego. "This research represents an important first step to show this may be possible."
Mercier also mentioned that almost no wearable device on the market measures chemical signals, such as lactate, the aforementioned biochemical marker of physical effort.
The team aimed to combine information about heart rate and lactate for the the first in the field of wearable sensors, which could be helpful for athletes that wish to improve their performance. Mercier and nanoengineering professor Joseph Wang were inspired by inquiries they received from Olympic athletes about the technologies the Center for Wearable Sensors produces.
"The ability to sense both EKG and lactate in a small wearable sensor could provide benefits in a variety of areas," said Dr. Kevin Patrick, a physician and director of the Center for Wireless and Population Health Systems at UC San Diego, who was not involved with the team's research.
According to Patrick, in addition to sports medicine and physical fitness, the ability to "concurrently assess EKG and lactate could also open up some interesting possibilities in preventing and/or managing individuals with cardiovascular disease."
How they did it
The researchers used screen printing to get the patch onto a thin, flexible polyester sheet that can be applied directly to the skin. They equipped the patch with an electrode that can sense lactate, along with two EKG electrodes bracketing it to the left and the right.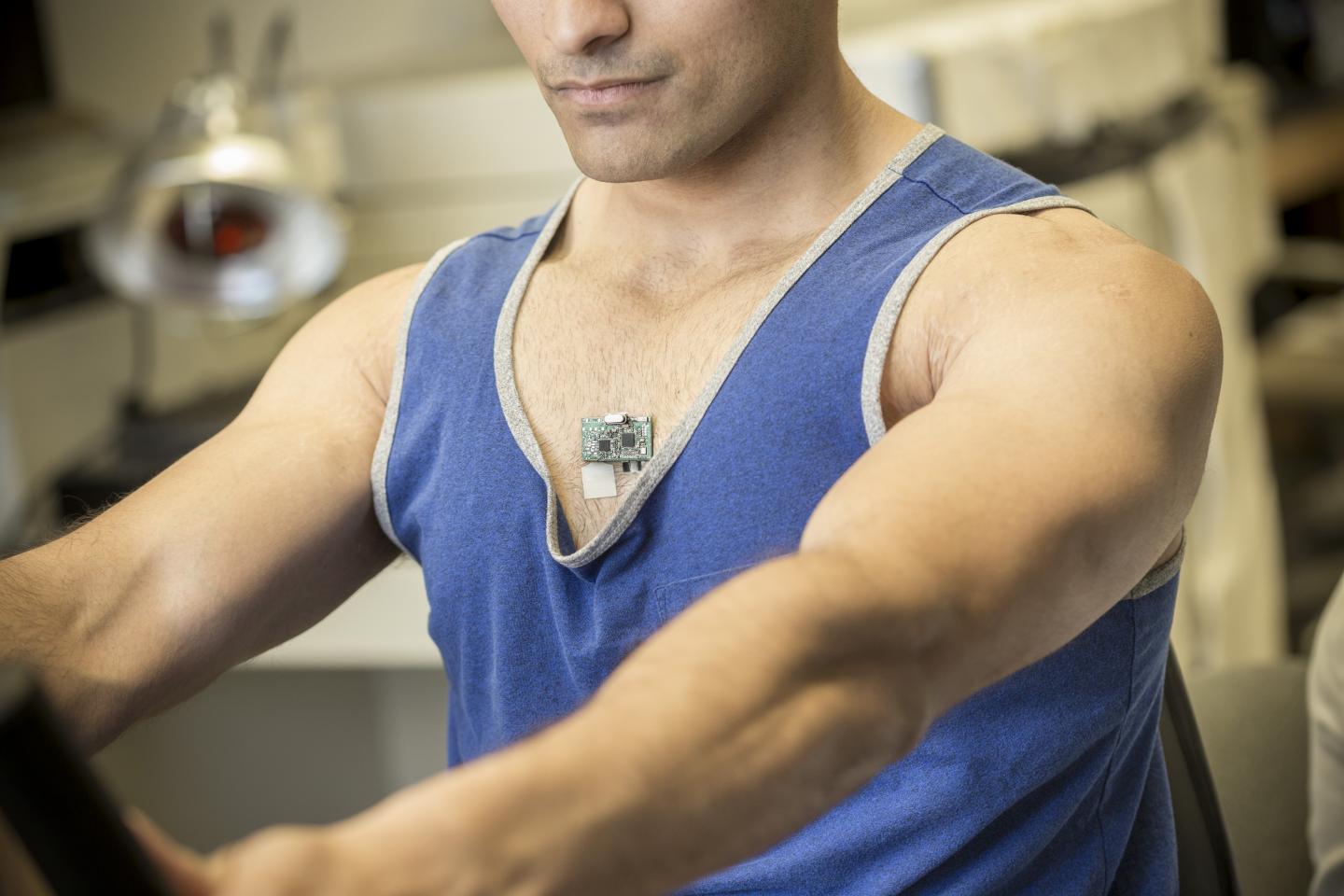 After much trial-and-error in regard to distancing the electrodes to avoid interference, they found that a distance of roughly 1.5 inches between the EKG electrodes was the best option.
They also needed to ensure that the EKG sensors were isolated from the lactate sensor and that there was no sweat interference, which they accomplished by adding a printed layer of soft water-repelling silicone rubber to the patch.
The sensors were connected to a small custom printed circuit board equipped with a microcontroller and a Bluetooth Low Energy chip, so that it could wirelessly transmit information gathered by the patch to a smartphone or a computer.
When compared to the trackers in a commercial wearable wristband, the patch produced closely matched results.
Now, the engineers will work to improve the way the patch and the board are connected, as well as include even more sensors for other chemical markers, such as magnesium and potassium, and other vital signs.
Story via Eurekalert.