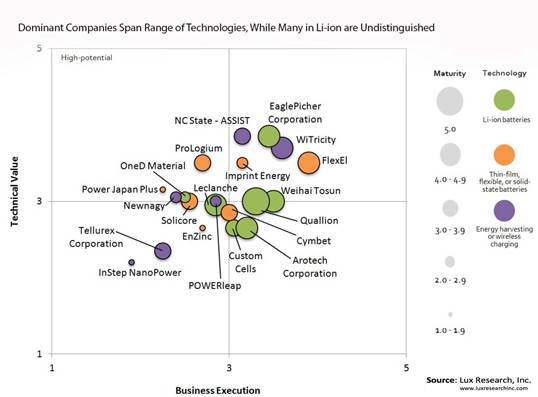 Wearables & Bioelectronics Need Better Energy Storage
According to Lux Research, wearable, implantable and other medical devices are creating energy demands and design requirements beyond conventional batteries. Existing battery solutions barely satisfy the demands for increased functionality and power in existing medical devices and may have slowed the shift toward personalised health care in many areas of medicine.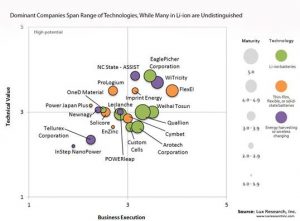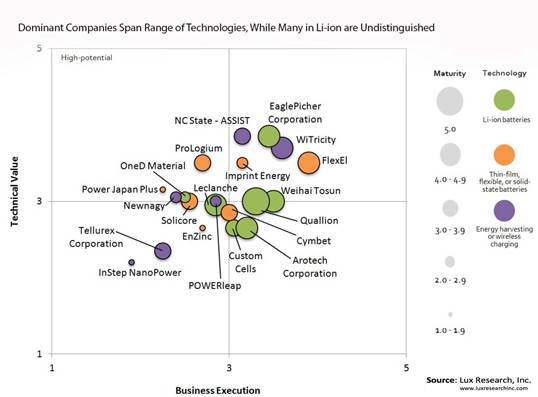 "Developers of energy storage must understand the required application-specific optimisation of batteries, based on performance and safety and desired form factors," said Milos Todorovic, Analyst, Lux Research, and lead author of the report Powerful Medicine: Opportunities for Pairing New Bioelectronics with Innovative Energy Storage. "Winning in this race will require a thorough understanding of key technical requirements as well as the knowledge of regulatory and safety implications of bringing new energy storage to the fore."
Lux Research analysts identified key demands arising from the novel medical technologies and evaluated energy storage companies on the proprietary Lux Innovation Grid. Their findings include:
Li-ion batteries will make rapid strides. Newer lithium-ion batteries will advance both safety and performance, besides extending life span. Compared with today's best batteries, those that will become available in 2025 will double energy density to over 1,200Wh/L, more than double specific energy to over 400Wh/kg, quintuple life span to over 25 years and raise safety standards to 'excellent' from 'mediocre to satisfactory'.
EaglePitcher, WiTricity, FlexEI are standout companies. On the Lux Innovation Grid, three companies offering diverse technologies stood out as 'dominant' in the upper right quadrant. EaglePitcher's batteries are entrenched in energy storage niches, including military, medical and aerospace; WiTricity leads with its wireless charging technology, a potential life-saving feature; and FlexEI offers contract engineering for custom batteries, with form factors including thin-film and cylindrical cells.
Current Li-ion developers lag. On the Lux Innovation Grid, Li-ion developers are clustered mostly in the lower-right 'undistinguished' corner, with mediocre technology and business execution, highlighting the need to push beyond today's incumbent technologies. To succeed, Li-ion battery companies would need to develop flexible form factors without sacrificing energy stored, sharply raise energy density with a push towards next-gen designs like ceramic or polymer solid-state electrolytes and also enhance safety.