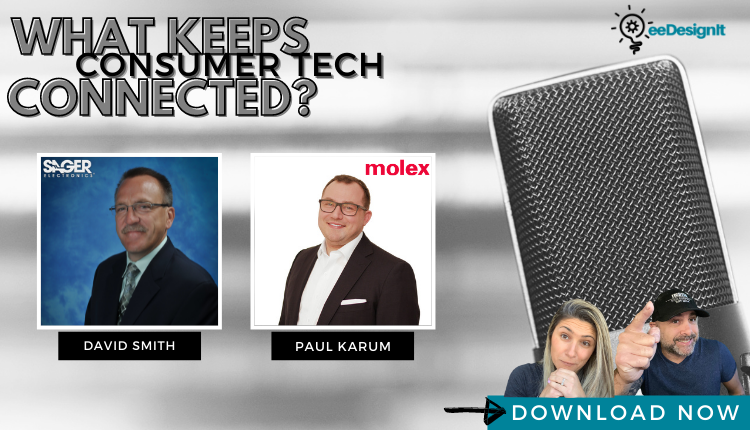 What Keeps Consumer Tech Connected?
Sponsored by Sager Electronics
Consumers were pushed out of their comfort zones in 2020. Employees were forced to take on new work environments. Families kept connected in new and creative tech-fueled ways. But what kept us moving forward during that time was technology, and that technology was pushed to its limits at a faster rate than we could have anticipated.
What is it that keeps consumers tied to technology? What are they looking for in their devices?
For starters, these four factors are top of mind for consumers these days.
Energy Efficiency. Home automation allows energy-consuming tech to run at your usage level, so lights aren't left on all day when no one's home, and the sprinkler system won't turn on while it's raining. Connected tech like lights and thermostats use sensors to make sure they don't turn on when they aren't needed.
Money Savings. A smart home's cost savings go hand-in-hand with its energy efficiency. By automating some of the biggest energy-drainers in the home, consumers have the opportunity to save hundreds of dollars a year. According to the U.S. Department of Energy, heating and cooling accounts for almost half of your home's energy use. The Nest Thermostat the first smart thermostat of its kind and the most popular, saving customers around 10% – 12% on heating and 15% on cooling, averaging $131 to $145 a year.
Home Safety. From a home safety point of view, connected technologies provide some major security advantages, like activating security systems remotely, viewing security camera footage through devices and receiving text alerts any time the system is tripped.
Quality. Users are spending good money on these devices, and yes they may be worth it, but they want to make sure they're buying quality products. Now more than ever, consumers are staying educated, leveraging social media and product reviews to ensure they're making quality purchases.
The residual effects of the 2020 pandemic are anything but gone as we see supply chains still struggle to gain back efficiency. As we move forward, with the experience behind us, but not completely eradicated, it is critical to acknowledge the components that exist in nearly every piece of equipment or device we use: connectors.
In this discussion, we'll chat with Paul Karum, Product Marketing Manager, Molex and David Smith, Director of Supplier Marketing & Product Management, Sager Electronics, about consumer technology: the smarts, the present, the future, and the influential factors that drive purchasing decisions. We'll also explore the current state of the supply chain, victim to shortages, but finding new ways to keep business going. Molex, for example, works closely with Sager Electronics to meet the heavy increase in connector demand.
Listen in to learn more about what drives technology forward and keeps us all connected.
More about Paul and David:
Paul Karum, Product Marketing Manager, Molex
Paul is passionate about marketing and has been with Molex since 2014. Having multiple marketing roles around the organization, he is currently responsible for supporting the global marketing efforts of the Consumer and Commercial Solutions division to help ensure programs are aligned with strategic growth bets.
Paul actively supports Molex distributors with both in person and virtual trainings in various marketing programs. He currently resides in Chicago, IL USA with his family and enjoys outdoor activities all year round.
David Smith, Director of Supplier Marketing & Product Management, Sager Electronics
With over thirty-five years of experience in interconnect technology, David Smith has a demonstrated history working in the electrical and electronic manufacturing industry. As Sager Electronics' Director of Supplier Marketing & Product Management for Interconnect, David is responsible for managing the distributor's world-class connector portfolio including supplier management, inventory and pricing strategies, and product marketing. David has a Bachelor of Engineering from the University of Rhode Island.