Lightsabers, also commonly known as laser swords, achieved rising popularity when they appeared in the Star Wars films as an energy weapon. A typical lightsaber is about three-feet-long and usually consists of a metal hilt that projects a beam of bright light in blade form.
If you're a lightsaber (or Star Wars) enthusiast (yes, there's such a thing) you'll probably want to skim through the following, custom lightsabers and find out where you can get your own.
1. Park Sabers
The company creates customized lightsabers based on the the ones you've seen in movies. Park Sabers offers two varieties of its Phase sabers: One with full power and another that employs The Phase saber program which flashes the blade just above the highest rate that the human eye can separate images, meaning that when the blade is moved, a person's eye will see the actual blade position as well as the previous blade position. The Phase blades are designed with a resistance switch that actually uses the moisture in your hand to complete a latched electronic circuit. To use and manipulate you must lightly touch the Force Touch circuit board.
You can purchase a lightsaber starting at $100, but each is customized and includes different components so you may be looking at prices closer to $500 once complete.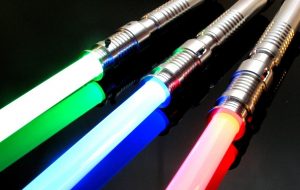 Rob Petkau has been an avid sabersmith for almost 20 years and decided to start his own company to do what he loves full-time. Petkau will customize any lightsaber for you for a pretty penny, but also offers some moderately priced lightsabers, and by moderately priced, I mean starting near $600.
3. Saberz.com
This site not only offers a variety of lightsabers to choose from, but also offers options to completely build your own. The company sells empty "Saberz" so you can install any custom electronics.
Once you've purchased one of the company's Sabers, you can adjust and customize it, or even reinvent it using the company's interchangeable parts, which include pommels, emitters, shrouds, and accessories.
4.  Saber Forge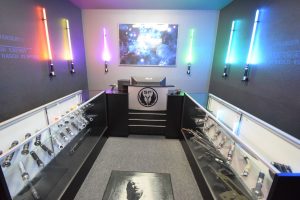 This company hosts its main showroom near Portland, Oregon, but makes any of its lightsabers readily available to you via online purchase.
Saber Forge creates sabers that are even fit for combat. According to its website, "our sabers can withstand heavy dueling, even against kendo bokkens, the only exception is our crystal reveal prodigal son, crystal reveal redeemer, and crystal reveal exhalted, they are high grade replica display props and are not dueling sabers."
When it comes to LEDs, the company uses two 3-W Cree XB-D modules on a 20 mm star board for its 6-W builds and  for 12-W builds mounts four 3-W Cree XB-D modules on a 20 mm star board.
No, you won't be able to find any lightsabers for purchase on this website, but you will be able to get your hands dirty while constructing your own. You can vibe off of others' creations or even use your own imagination. Most projects require the use of components such as LEDs, sink tube adapters,  optical lenses, and resistors, so it may help if you have a background in engineering or electronics, but it is not required.