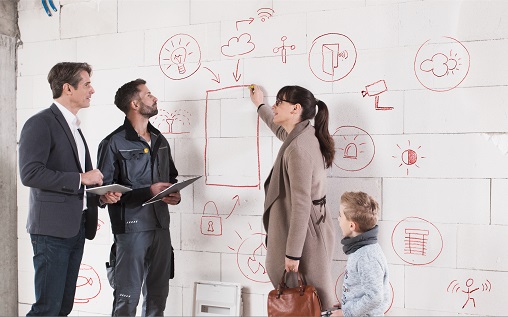 Credit: ABB Group
ABB is replacing its popular UK500 range of consumer units
ABB is replacing its popular UK500 range of consumer units for residential and small commercial buildings with the new and improved UK600 series.
The UK600 can accommodate a wide variety of installations, including media and combi enclosures. The units feature twice the wiring capacity of the UK500 range, enabling wholesalers to save shelf space and installers and panel-builders to save up to ten percent on assembly time. The new series also offers an array of door styles to ensure the unit fits with the design of the room.
Available for flush mounted installation in either a brick or hollow wall with a metal door, the new product range has been designed following extensive customer market research from more than ten different countries. ABB has also built a new, highly-automated production line to satisfy bespoke customer configuration requests.
"We have interviewed many installers and wholesalers in different countries and listened carefully to their needs. The UK600 is the culmination of our many years' experience combined with first hand feedback on what is most important to our customers – ease of use, and a variety of solutions such as consumer units, media and combi enclosures," said Kai Kilgus, Global Product Manager of ABB's Distribution Enclosures. "We believe the UK600 series is the best-in-class, offering endless possibilities for design and creativity."
The UK600 consumer unit has a choice of doors and designs to complement interior home styles. The media enclosure version combines the electrical installation with the latest media technology for installations with limited space, such as in small apartments.
"At ABB we are focused on delivering first rate reliable products and solutions to distribute electricity safely and efficiently across homes and businesses all over the world," continued Kai. "With the growth in digitalization and need for individualization, we have introduced the customizable and scalable UK600 consumer units to provide best-in-class design and quality solutions for modern homes and businesses."
The new units deliver various functionalities and features like 'click-in' assembly, an innovative cable guidance system and triple sockets with rotating outlets up to 120°. It features a standard distribution enclosure up to 63A from one to five rows, a re-designed multimedia solution from two to five rows and an innovative 'Combi enclosure' to bring the two together. The various features on the UK600 series are aimed at delivering smarter and improved installation to pave the way for smarter buildings.