Advanced Hyper-Fast Recovery Rectifiers: Powering Next-Generation Electronic Designs
Central Semiconductor has unveiled two innovative additions to their robust portfolio: the CRU24715-600 (600V, dual common cathode 15A rectifiers) and the CRU24730-600 (600V, dual common cathode 30A rectifiers). These rectifiers, encapsulated in the reliable TO-247 package, are designed for peak performance. What's more intriguing is that they were developed in conjunction with Central's forthcoming Super Junction MOSFETs. This synergy between the products offers engineers an all-encompassing solution suitable for a variety of designs, from the slow-side of PFC totem-poles and Flyback diode configurations to DC/DC converters and Switch-mode power supplies.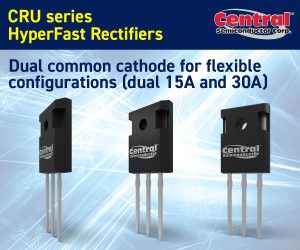 For engineers focusing on speed and efficiency, these hyper-fast recovery rectifiers offer an impressive trr of 35nSec at a VR of 30V and IF at 1A, coupled with a di/dt of 300A/us. The unique dual die layout allows for versatile usage: a single leg can be utilized, selecting either pin 1 or pin 3 for 15A or 30A
F (AV) rating, or one can harness the power of both pins in parallel, pushing the limits to 30A or 60A I
F (AV). Engineered to withstand varying conditions, the TO-247 ensures a broad operational temperature span from -55°C up to 150°C and offers a power dissipation capability of 50W.
Budget-conscious projects are in for a treat:
The CRU24715-600 SL is priced starting at US$1.45 for batches of 510 units (packaged in sets of 30 per tube/sleeve).
The CRU24730-600 SL is available starting at US$1.75 for batches of 510 units (also grouped in sets of 30 per tube/sleeve).
Central Semiconductor, with its headquarters in the U.S., has long been revered for its vast spectrum of superior discrete semiconductor products. The company is also acclaimed for its semi-custom solutions and extended support and product services tailored for engineers.
Learn More: Central Semiconductor LLC. | Featured Products