Recently Amazon launched a dedicated solar power store in India. Now the company is bringing renewable energy to Virginia.
Amazon signed a long-term agreement with Community Energy, Inc. to build an 80-megawatt solar farm in Accomack County, Virginia.
The solar farm will be called Amazon Solar Farm U.S. East and will generate about 170,000 megawatt-hours of solar power every year.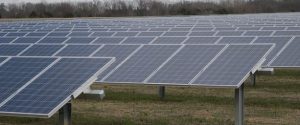 The farm will be the largest in Virginia and all energy generated from it will be delivered into electrical grids that supply both current and future Amazon Web Services Cloud datacenters.
All of this solar action by Amazon is part of the company's plan. In November 2014, Amazon Web Services announced its commitment to achieve 100 percent renewable energy usage for the global Amazon Web Services infrastructure footprint.
As of April 2015, the company succeeded in achieving approximately 25 percent of that goal, with an interim goal of increasing that percentage to at least 40 percent by the end of 2016.
The Power Purchase Agreement (PPA) for Amazon Solar Farm US East follows a similar PPA for Amazon Wind Farm (Fowler Ridge) in Benton County, Indiana, that was announced in January 2015 and is expected to generate approximately 500,000 MWh of wind power annually. Both represent key steps toward meeting these goals.
What does solar power mean for Virginia?
Virginia Governor Terry McAuliffe commented, "Amazon's new solar project will create good jobs on the Eastern Shore and generate more clean, renewable energy to fuel the new Virginia economy. I look forward to working with Amazon and Accomack to get this project online as we continue our efforts to make Virginia a global leader in the renewable energy sector."
For more information visit Amazon Web Services' website.