AT&T And IBM Team Up To Connect Water Pipes To The Internet
AT&T and IBM teamed up with Mueller Water Products, a maker of large pipes to develop a new solution to help cities save water. The solution uses the Internet of Things technology to help cities manage water and prevent leaks.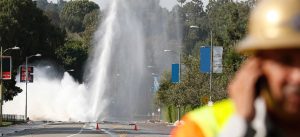 As a result of droughts, old pipelines and limited funds for new equipment, communities everywhere are struggling to save water. Monitoring the water system can prevent large-scale leaks. By using the technology, cities could also get information on the condition of fire hydrants, underground pipes and drainage systems which have been difficult to monitor in the past.
The solution uses Echologics sensors and sound technology from Mueller Water Products with AT&T's LTE wireless network to detect water pressure, temperature and leaks. The IBM Water Management Center brings all sources of water data together providing a complete view of past, present and future performance.
"A typical water pipe leak wastes almost 400,000 gallons of water per year," said Mike Troiano, vice president, AT&T Industrial IoT Solutions. "Cities are facing water shortages all over the world and need help identifying issues early to help avoid a catastrophic event. We're giving communities more visibility into their water supply, and helping them better manage the future operation of their water systems."
"With this new permanent leak monitoring technology, we can now monitor the pipe for small, subsurface leaks, which gives us a better opportunity to fix them before they develop into larger leaks," said Charles Scott, engineering project manager, Las Vegas Valley Water District. "This reduces our risk, and allows us to focus our maintenance efforts to targeted sections of pipe."
The Las Vegas Valley Water District (LVVWD) is a not-for-profit agency that began providing water to the Las Vegas Valley in 1954. It helped build the city's water delivery system and now provides water to more than 1 million people as well as 40 million visitors to Las Vegas per year. The district has built more than 4,000 miles of pipeline and a reservoir system that can store up to 900 million gallons of water. LVVWD is currently using this new solution to manage the water supply pipeline and limit potential water loss.
AT&T, IBM and Mueller Water Products are proving that IoT technology can help address the issue of water sustainability. The companies have created an enhanced water management solution as part of NIST's Global City Teams Challenge.
The companies are sharing results from recent trials at the National Institute of Standards and Technology (NIST) Tech Expo today. The trials took place in Atlanta, Los Angeles and Las Vegas.
"The success of the smart water project wouldn't be possible without the remarkable vision and execution of three industry leaders," said Sokwoo Rhee, associate director of Cyber-Physical Systems Program, NIST. "Water shortages are growing at an alarming rate and this technology helps conserve such an essential resource for communities across the globe."
AT&T develops IoT technology for industries such as supply chain, insurance, industrial asset tracking and smart cities. The solutions include smart meter management, connected vehicles, smart city street and traffic lights.
For more information on AT&T IoT Solutions, visit http://www.att.com/iot