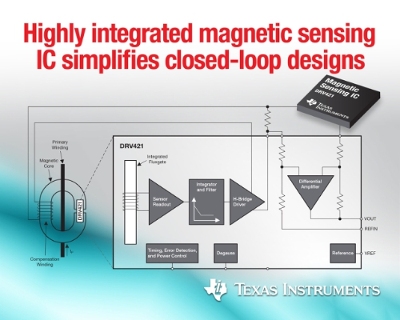 TI introduces industry's first fully integrated fluxgate sensor, signal conditioning and compensation coil driver IC, provides closed-loop current sensing
DALLAS, June 1, 2015 — Texas Instruments (TI) (NASDAQ: TXN) today introduced the industry's first magnetic sensing integrated circuit (IC) with a fully integrated fluxgate sensor and compensation coil driver, along with all the required signal conditioning circuitry. Complete integration enables the DRV421 to provide best-in-class sensor accuracy and linearity, high dynamic range, and simpler system design compared to traditional closed-loop sensors. With the DRV421, system designers will be able to more easily develop magnetic closed-loop current sensors for applications such as motor control, renewable energy, battery chargers and power monitoring.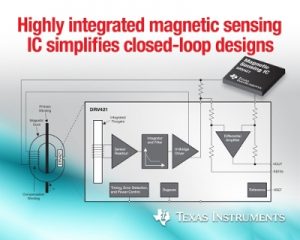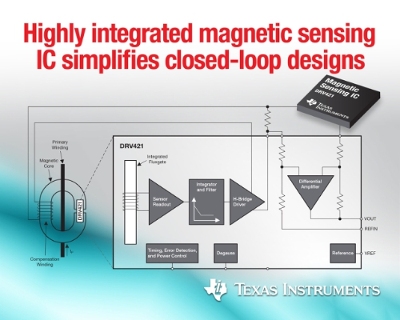 TI is demonstrating this technology at booth 217 at Sensors Expo on June 9-11 in Long Beach, Calif. For more information about the new DRV421 magnetic sensing IC, see www.ti.com/drv421-pr. 
Key benefits of the DRV421 IC
Simplifies system design: An integrated fluxgate sensor reduces design complexity and design effort, and helps achieve smaller footprint.
Sensor integration enables best-in-class accuracy and linearity:

Allows precise control over motors and automation equipment with an overall sensor accuracy of less than 0.1 percent.

Reduces coupling between the compensation coil and the fluxgate sensor, as well as emissions from fluxgate excitation, to provide high linearity

High dynamic range: Built-in closed-loop magnetic core degaussing procedure and offset calibration increase dynamic range up to six decades while supporting higher system-level accuracy, compared to traditional solutions.
Allows 3.3-V operation: As the first fluxgate sensor solution on the market supporting 3.3-V operation, the DRV421 simplifies the interface to integrated ADCs on low-power microcontrollers.
Tools and support to speed design
The DRV421 evaluation module (DRV421EVM) enables designers to quickly and easily evaluate the new current sensing IC's features and performance. It is available for purchase for US$49 via the TI store and authorized distributors.
In addition, SUMIDA CORPORATION has introduced the SC2912, a magnetic module that system designers can place on top of the DRV421 as a printed circuit board (PCB) component. This allows engineers to design universal platform solutions targeting a wide range of current levels while choosing the appropriate magnetic module for their specific use case.
"The novel and intuitive approach of our DRV421 complementary module gives customers a new degree of freedom for a closed-loop sensor module," said Mr. Seiji Shimizu, assistant manager of signal and power solutions for the Automotive and Industry Business Unit, SUMIDA. "The combination of our module technology and TI's DRV421 gives customers an unprecedented level of accuracy, linearity, dynamic range, sensitivity and ease of use."
Support for the DRV421 is available in the TI E2E™ Community, where engineers can search for solutions, get help, share knowledge and solve problems with fellow engineers and TI experts.
Package, availability and pricing
The DRV421 comes in a 4-mm-by-4-mm quad flat no-lead (QFN) package. Pre-production samples are available now. Production quantities will be available in 3Q2015 for a price of US$2.50 in 1,000-unit quantities.
Learn more about TI's precision analog portfolio: