Audi Selects Microchip's MOST150 Technology for New Audi TT Virtual Cockpit System
Microchip Technology Inc., a leading provider of microcontroller, mixed-signal, analog and Flash-IP solutions, today announced that AUDI AG is networking the Audi virtual cockpit system in its new TT Models using MOST®technology. Specifically, it is deploying Microchip's OS81118 MOST150 Intelligent Network Interface Controller (INIC), which provides 150 Mbps performance, supports all MOST network data types, and includes a High Speed USB 2.0 interface (PHY/HSIC) to seamlessly connect with the virtual cockpit's System-on-Chip processor.
To date, more than 150 million MOST devices have been installed in over 180 car models since 2001. AUDI AG and a host of other automakers have consistently chosen this technology for their infotainment networks because it provides high-bandwidth transport and audio streaming, software downloads, Ethernet Packet/Internet Protocol (IP), Synchronous, Isochronous and Control data with zero processor overhead, and proven electromagnetic-compatibility (EMC) behavior. This EMC performance is particularly good when combined with the optical physical layer that is utilized in the new Audi TT models. The MOST150 standard offers dedicated data channels with dedicated, application-specific hardware interfaces to simplify communication system designs and significantly reduce MCU software overhead. MOST technology also provides ultra-fast startup for immediate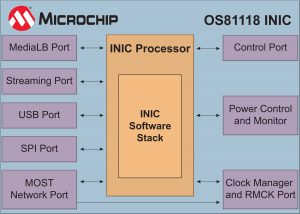 access to the vehicle's multimedia systems.
The MOST Cooperation standards enable automotive OEMs and their Tier 1 suppliers with a proven and well-supported methodology for defining and implementing their infotainment systems, including a standard physical layer and a robust method for system management and control with superior reliability and Quality of Service (QoS). Using MOST technology also results in reduced weight for easier compliance with environmental regulations.
"We are excited that Audi once again adopted MOST technology in its new TT car models," said Dan Termer, vice president of Microchip's Automotive Information Systems Division. "We are also grateful for Audi's contribution to the development of our OS81118 INIC, which is a great example of the many successful cooperative efforts between Audi and Microchip.