Avnet Electronics Releases Upgraded 7-inch Zed Touch Display Kit
May 26, 2015 – PHOENIX – Avnet Electronics Marketing, an operating group of Avnet, Inc., today announced availability of an upgraded 7-inch Zed Touch Display Kit featuring a more rugged assembly, more tightly integrated touch solution and updated reference design tutorials.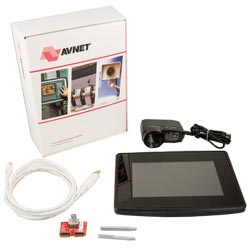 The Avnet-designed AES-ALI3-ZED-G kit replaces the AES-ALI2-ZED-G and provides engineers in markets including medical, embedded and industrial automation, with all the elements they need to develop interactive GUIs and touchscreen capabilities using the Xilinx Zynq®-7000 All Programmable SoC. The 7-inch Zed Touch Display kit is available for $499.
The 7-inch Zed Touch Display Kit demonstrates a complete embedded display system allowing for video output to an integrated 7-inch WVGA display with the benefits of an Avnet PCAP touch solution. The kit combines an 800 x 480 WVGA TFT-LCD display with an industrial projective capacitive touch sensor, I2C-based touch controller, LED backlight supply and all the necessary cables. The touch display connects to the ZedBoard™ or MicroZed™ through a standard DisplayPort cable and adapter cards. The projected capacitive touch overlay provides enhanced touch ruggedness, suitable for more demanding outdoor or industrial environments. The display panel included with this kit provides a high contrast ratio of 400:1 and 350 nits brightness, making the optic performance of this display an excellent fit for industrial applications, particularly in locations with non-ideal lighting conditions or where the user may not be at an optimal distance from the display.
"With the rapid evolution of capacitive-touch technology and the growing number of applications requiring embedded human-machine interface capability, Avnet opted to upgrade the 7-inch Zed Touch Display Kit to offer extended value to a broader range of customers," said Jim Beneke, vice president of global technical marketing for Avnet Electronics Marketing. "The kit was specifically designed with long-life components so developers can quickly start their User Interface proof of concept and smoothly transition into production without sourcing complications due to part obsolescence."
Kit Contents Include:
7-inch LCD Touch Display Assembly
ZED LCD Interface
Standard DisplayPort to Mini DisplayPort Cable
12V Power Supply
Mechanical Mounting Enclosure and Stands
Getting Started Instructions
For more information or to purchase this kit, visit http://bit.ly/1DUfINe.