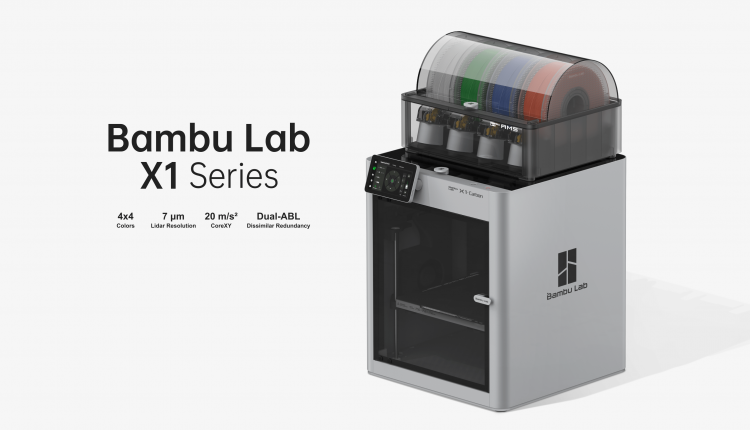 Bambu Lab X1 Printer Delivers 3D Printing into AI-Powered Era
Bambu Lab announced today that its X1 Series is ready for pre-order through Kickstarter on May 31. The X1 Series features AI-powered automated capabilities. A Quad-core SoC and dedicated 2TOPs Neural Processing Unit, matching Bambu Micro Lidar and over 40 sensors. Features include spaghetti detection, first layer inspection, automated bed leveling with dual redundancy, extrusion calibration for linear advance flow control, and active vibration compensation. The printer allows users to print multiple colors and materials at high speed and with incredible smoothness, raising the bar on consumer-grade 3D printing technology.
Using RFID technology, Bambu Lab AMS identifies loaded filament and automatically configures the most appropriate print settings. Humidity sensors and an airtight enclosure keep the filament dry and ready to use, which is especially helpful for engineering-grade materials such as nylon and polycarbonate, which are hydroscopic. Each Bambu Lab AMS comprises four filament slots and installation of up to four AMS in parallel. With multiple filament slots, it's now possible to use snap-away support material or dissolvable filament to minimize the pain of removing supports. The CoreXY motion system and featherlight full-carbon X rail allow the ultra-lightweight toolhead to accelerate at 20,000 mm/s² with minimal compromise in printing quality.
Bambu Lab will launch the X1 Series on Kickstarter on May 31, 2022, followed by Bambu Lab's official store and selected e-commerce platforms.
Includes
Early Bird
KS Special
MSRP
X1

Bambu Lab X1
250 g Bambu PLA Filament

$699
$799
$999
X1-Carbon

Bambu Lab X1-Carbon
250 g Bambu PLA Filament

$849
$949
$1199
X1-Carbon Combo

Bambu Lab X1-Carbon
Bambu Lab AMS
250 g Bambu PA-CF Filament
250 g Bambu Support Filament
250 g Bambu PLA Filament

$999
$1149
$1449
Shipment will start immediately upon the completion of the Kickstarter campaign in July. For more information, visit: www.bambulab.com