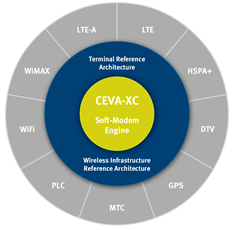 Celeno Adopts CEVA DSP for High Performance 802.11ac Wave 2 4×4 Products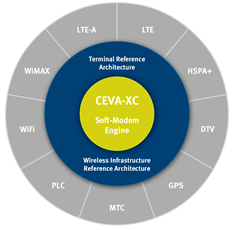 CEVA, Inc announced that Celeno Communications has licensed and deployed the CEVA-XC DSP for its 802.11ac Wave 2 4×4 Wi-Fi chip portfolio. Celeno has utilized the CEVA-XC to build a powerful, flexible and highly efficient solution for Wi-Fi 802.11ac next generation access points and client devices.
Celeno is a leader in video-grade Wi-Fi and other demanding multimedia and data home networking applications. The Quicksilver 802.11ac Wave 2 4×4 Wi-Fi chip family looks beyond the latest industry standards to provide equipment manufacturers with the functionality and flexibility to anticipate the next developments in customer usage. Quicksilver builds on its smart, multi-user multiple input multiple output (MU-MIMO) architecture and algorithms to offer channel-aware Wi-Fi virtualization coupled with advanced Quality of Service and Quality of Experience management technology. The CEVA-XC DSP runs the 802.11ac PHY functions, bringing a new level of Software Defined Radio (SDR) flexibility to Wi-Fi. It enables Celeno and its OEM customers to add enhanced functionality and beyond-standard innovation for best in class Wi-Fi solutions.
Nir Shapira, CTO at Celeno Communications commented: "CEVA is the industry leader in high performing DSP's and CEVA-XC DSP is an outstanding processor for high performance, software-defined Wi-Fi applications. This technology combined in a highly-integrated product offering optimized for high performance 4×4 802.11ac use cases provided us with an excellent platform for the development of our MU-MIMO Wi-Fi access points."
Eran Briman, vice president of marketing at CEVA, added: "Service providers and OEMs face a rapidly changing environment in terms of Wi-Fi in the home and Celeno is giving them the ability to be agile and react effectively to new consumption patterns, delivering optimal user experience. CEVA is pleased to be working with Celeno to realize a range of innovative solutions in this space."