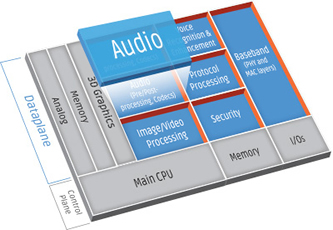 dbx-tv Total Technology on Cadence Tensilica HiFi Audio/Voice Processors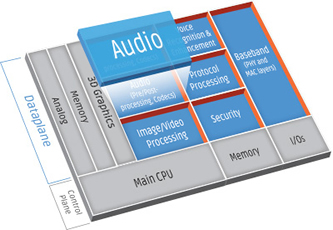 Cadence Design Systems and dbx-tv announced that dbx-tv's Total Technology audio enhancement suite is now available on the Cadence Tensilica HiFi Audio/Voice digital signal processing (DSP) family.
The Total Technology suite offers several technologies working together, which result in optimal audio quality that creates the best sound available from the TV's built-in high-performance speakers. The multiple DSP audio enhancement technologies in the dbx-tv Total Technology suite include:
• Total Sonics— Makes small speakers sound larger with rich, deep bass, crisp highs, a wide sound field and natural-sounding vocals.
• Total Surround— Envelops listeners in surround sound from all around using only two TV speakers.
• Total Volume— Maintains even loudness when switching channels, programs or sources, at commercial breaks and within programs.
• Total Cal— An automated, PC-based tool for manufacturers to set up, customize and control the over one hundred parameters required by Total Sonics, Total Volume and Total Surround.
"With the HiFi DSP being the most popular and lowest power audio/voice IP core family on the market, Cadence was an ideal partner for us to reach audiences looking for top-rated, high-end quality audio ideal for the home entertainment market. In fact, it is the only licensable DSP core that we currently support," said Tim Brault, licensing sales director, dbx-tv. "Our technology helps device manufacturers differentiate their products by providing a more compelling user experience."
"We have strong demand from our HiFi licensees to provide high quality and innovative audio/voice technologies that enhance their products and differentiate their offerings from what is currently available in the market," stated Larry Przywara, group director of audio/voice IP marketing at Cadence. "Being able to offer our customers an immersive audio experience with the dbx-tv Total Technology suite speaks volumes of the quality of technologies available from Cadence's breadth of audio/voice partners."
The Cadence Tensilica Audio/Voice DSP is the most widely used licensable audio/voice/speech DSP family, with support for over 160 proven audio/voice software packages and over 75 software partners in the Tensilica Xtensions partner program.