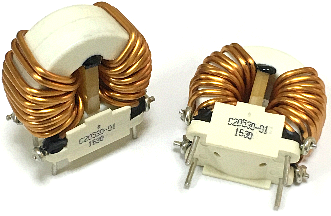 Check It Out at APEC 2019: New Nanocrystalline Common Mode Chokes
APEC 2019 News
ITG Electronics now offers a range of Nanocrystalline Common Mode Chokes; DCN Series, C20530 Series, C20540 Series, C30530 Series and C30540 Series of Common Mode Chokes,  which deliver higher power ratings in a small size.
Nanocrystalline material gets its name from its production process. A stream of molten metal is rapidly cooled and locks in the amorphous high energy structure. The resulting material consists of crystals with a grain size on the nanoscale (10-100nm).
Nanocrystalline core chokes are optimal for a wide range of applications for both commercial and consumer electronics. Its high permeability allows for fewer turns to achieve the same inductance. This enables nanocrystal cores to boast a much lower DCR (Direct Current Resistance) and reduce component size than Ferrite core materials. A lower DCR means higher efficiency and lower power loss.
For more information, visit www.ITG-Electronics.com.
ABOUT ITG ELECTRONICS INC:
ITG Electronics headquarters in Elmsford, New York. ITG specializes in wire-wound power magnetic components design, product development and manufacturing. ITG is a preferred supplier for magnetic components to many US and worldwide major electronics OEM's.
ITG factories are TS16949, ISO9000, ISO14000, OHSAS18000, QC0800000, ISO14064 Certified.