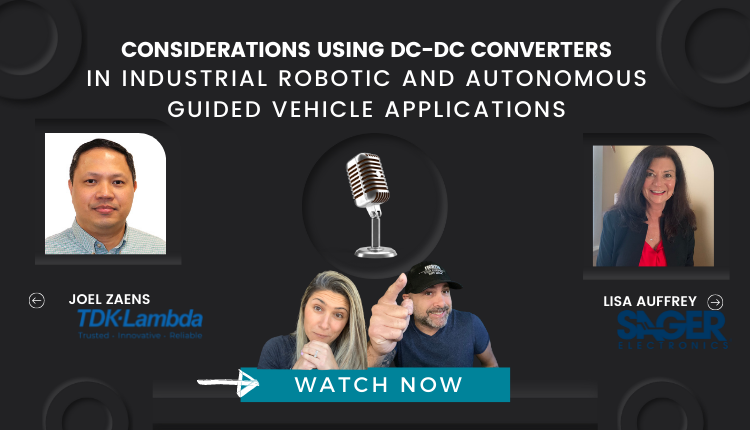 Considerations using DC-DC converters in Industrial Robotic and Autonomous Guided Vehicle Applications
Autonomous Guided Vehicles (AGVs) and drone applications, in the realm of industrial mobility is gaining traction due to the current labor shortage. This shortage and the subsequent application uptick have been further exacerbated by the global pandemic. As a result, it is increasing manufacturer efficiency. Increasing the efficiency or throughput/output is actually one of companies' main supply chain goals right now, as well as worker safety.
Robots and drones in this setting, for example a harsh environment, prevent workers from being exposed to elements or have the capability to sanitize areas in a workspace to assist with pandemic procedures. Specific examples such as these are driving the traction for mobility or autonomous robotics.
Determining which power architecture to use is important in any electronic device or system.  This is most certainly the case with industrial autonomous robots. The size, efficiency, weight and scalability of the DC-DC converter will have a significant effect on battery life and operability.
In this video, we chat with Joel Zaens, Product Manager, TDK Lambda and Lisa Auffrey, Power Systems Sales Engineer, Sager Electronics to discuss this topic and the options available. We'll explore using non-isolated vs. isolated dc-dc modules and provide solutions to maximize run times, talk about battery weight, scalability and system cooling in these settings.
Key Highlights
Manufacturer challenges when designing these types of autonomous robots: mobility, weight, scalability, runtime, thermal etc.
TDK-Lambda's solution: new line of non-isolated DC-DC converters that are gaining traction due to their high efficiency (optimized for load)
Future applications of both TDK's modules and the industrial robots they power
How the Sager power systems engineers help propel this initiative and create custom solutions
Our Guests:
Joel Zaens  | Product Manager, TDK-Lambda
Lisa Auffrey | Power Systems Sales Engineer | Sager Electronics