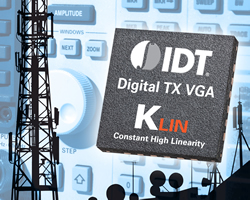 Constant Linearity Technology with Launch of Latest RF Digital VGA
Integrated Device Technology (IDT) introduced a digital variable gain amplifier (VGA) for radio frequency (RF) base stations featuring its new KLIN  constant linearity technology at the International Microwave Symposium, IMS2016, Moscone Center in San Francisco. With the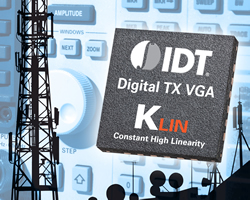 KLIN  innovation, the IDT F1455 family of high-gain, high-linearity transmitter VGAs maintains a high 38 dBm output third order intercept point (OIP3) for the first 12 dB of gain control range, providing greater dynamic range for the system. The F1455 family of devices is ideally suited to drive power amplifiers in wireless base station transmitters.
IDT's KLIN technology extends both OIP3 and output 1 dB compression point (P1dBO) amplifier gain settings. This is particularly valuable in transmitter designs where the gain of the device is maintained within a normal gain setting window about 6 dB below maximum gain.
"The F1455 family provides high-reliability, monolithic, QFN-packaged silicon solutions that deliver unique constant high linearity via our new KLIN   innovation," said Chris Stephens, general manager of IDT's RF division. "These ICs, which replace lower-reliability GaAs-based MCMs, continue IDT's trend of bringing innovative design technology to the markets we serve."
Other soon-to-be-released parts in the family cover frequency ranges of 700 MHz to 1100 MHz and 2300 MHz to 3000 MHz.
The F1455 is available in a 6 x 6 mm 28-QFN package, and is sampling now to customers. IDT representatives will be available to discuss KLIN and other innovations at IDT's booth number 316 at IMS2016, Moscone Center, May 24 – 26.