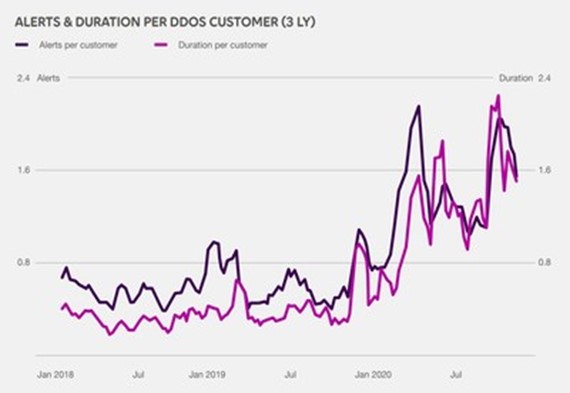 DDoS Report: 50% Increase in Peak Attack Traffic
Telia Carrier announced findings from a DDoS Threat Landscape Report on today's cyber threats from traffic data observed on its #1 ranked Internet backbone, AS1299. The report investigates changes in attack vector, size and frequency, and claims a 50% increase in peak attack traffic compared to 2019, with a jump to 1.18 Terabytes per Second (TBPS) or 887 Mega Packets Per Second (Mpps).
The report a snapshot of Telia Carrier's monitoring and mitigation efforts to protect customers across its global network. In 2020, Telia Carrier cleaned a staggering 57 Petabits or 14 tera packets of malicious data and the average size of a DDoS attack was 19 Gbps (23 Mpps), with an average duration of 10 minutes.
The report also showed a higher incidence of high-intensity attacks, that DNS and NTP amplification attacks were the most common attack vectors in 2020, and activity peaks mirrored COVID lockdowns.
Carpet bombing is also on the rise. Previously this attack type was seen in severe, but isolated cases, but is now consistent and sustained. The full report can be downloaded here.
Original Release: PR Newswire