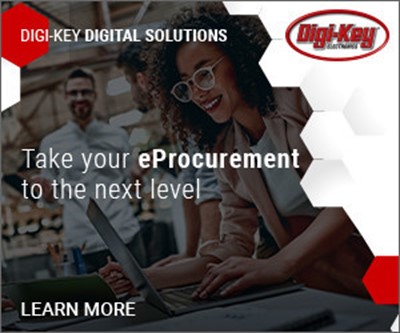 Digi-Key Hosts Fireside Chat with MacroFab on Leading Digital Solutions
Digi-Key will be hosting a "Digital Solutions: A Live Fireside Chat" with MacroFab, Inc., on Thursday, April 28, at 3 p.m. CDT. Featuring speakers from both companies, discussion will concentrate on the benefits of using APIs to connect directly with electronic component distributors. There will also be an audience Q&A session.
Such digital solutions as APIs, EDIs, and Punchouts provide a competitive advantage enabling access to Digi-Key's data directly in real-time with the ability to perform transactions more efficiently. The chat will also cover:
Why adopting a digital solution is worth the time and money
How to get started with a digital solution
The real-world benefits of using digital solutions like APIs
To attend the webinar, submit a registration form. If you can't attend the live webinar, Digi-Key will send the recording after the event to those who register. For more information about Digi-Key's digital solutions, visit the Digi-Key website.