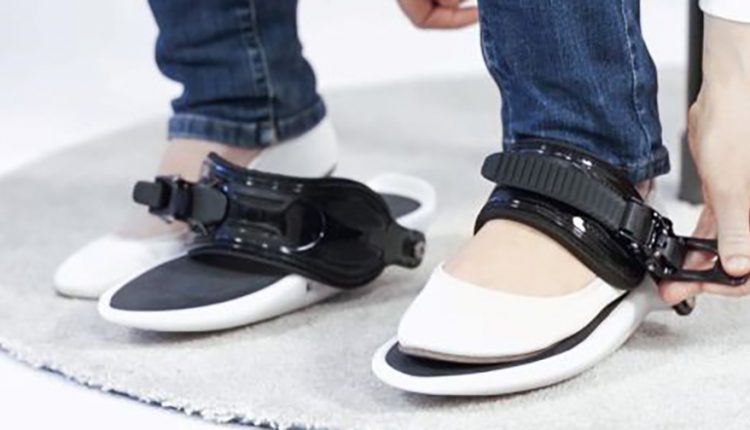 Cybershoes
After a successful US premiere at the E3 in Los Angeles, Cybershoes developed by the Austrian company of the same name can now be experienced live at a gaming convention in Europe for the first time. VR enthusiasts have the chance to break into virtual worlds on their own feet, run around in games, storm forward or get to safety, at gamescom in Cologne from 21st to 25th August 2018 in Hall 10.1, Stand B070.
The innovative and attractively priced VR footwear does what was previously only possible with heavy VR treadmills, but they are far more elegant, compact, cost effective, and above all much more comfortable. Cybershoes are revolutionary, bringing a new dimension of immersion into the living room.
Take the opportunity to discover digital worlds and well-known games the way you move in real life: on foot. And that's how simple the unique VR experience works: the Cybershoes are strapped to the feet or shoes and connected to the VR system. The player sits on a rotating bar stool and intuitively controls his or her own movement in the virtual world in real time with legs and feet.
The light, but very stable Cybershoes are also suitable for heavyweights. The use of special antistatic plastic effectively prevents electrical charging of the system. Cybershoes demonstrate their strengths regardless of the size of the room. And because they won't blow a hole in the till nor bother your loved ones or neighbors, they open up completely new gaming options within your own four walls.
Cybershoes are compatible with all popular VR games and work with SteamVR, HTC Vive, Oculus Rift and Windows Mixed Reality.
Michael Bieglmayer, inventor and CEO of Cybershoes, stated: "VR is an endless space, but until now it was not really easy to walk in. We had to experiment a lot until we realized that the solution was not to be found in standing but in sitting. Then one thing led to another. And the result inspires: because nobody can escape the strong immersion that is possible with Cybershoes. That's why the swivel chair you're sitting on is forgotten in no time."
A Kickstarter campaign is about to be launched. If you want to dive into virtual worlds not only with your head and hands, but also with your legs and feet, you can get an early bird discount here.