DIY: Smallest arcade cabinet is completely 3D-printed
The tiniest version of Space Invaders has been created, and it's fully-functional.
A company called Tiny Circuits that designs and manufactures tiny electronics modules that are open-source and Arduino compatible has created one of the smallest-ever arcade cabinets.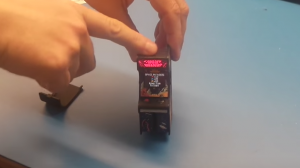 The actual arcade cabinet is completely 3D-printed and inside you'll find a tiny Arduino board, a battery and a screen. When you insert a coin into the machine the screen powers on and the top of the game lights up so you can actually play with the incorporated analog joy stick.
Watch the Tiny Circuits team show off its tiny arcade cabinet in the video below.
Tiny Circuits will have the files up on its website in the near future so you can play around, too.