Hobbyist and "inventor of useless things," Niklas Roy created a behemoth pinball machine for the 2015 Pinball Exhibition in Germany.
The machine, measuring about 20 feet tall and 10 feet wide, is on a 30° incline so Roy opted to use incredibly hollow balls. For the flippers he used pneumatic cylinders as actuators which are controlled by electromagnetic valves.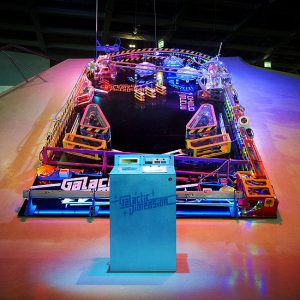 Air cylinders are also cheap, powerful and reliable – and the power can be easily adjusted by regulating the air pressure.
Roy also incorporated many household objects into his machine. For example, the plunger was a combination of a sewer pipe and a hair dryer, blowing the ball up the playfield.
As for the modules on the playfield, "each module has its own 220V power supply, a sensor for detecting the ball (which is either an infrared distance sensor or a simple light barrier) and an Arduino as a microcontroller. One or more actuators were also included, which caused the ball to change its trajectory.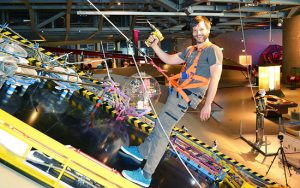 "As soon as I had the essentials mounted on the ramp, I switched the machine on in order to play it for the first time. And what can I say? – It worked like a dream," said Roy on his website.
His machine will be on display until September 2015 in Germany.
For full project details visit Roy's website.