A research engineer from the Texas A&M and a Florida colleague have developed a biosensor that can detect listeria bacterial contamination in just two or three minutes.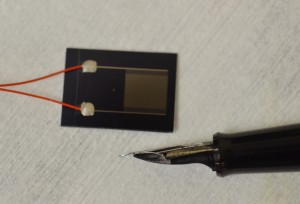 "We hope to soon be able to detect levels as low as one bacteria in a 25-gram sample of material – about one ounce," said Dr. Carmen Gomes, AgriLife Research engineer at the Texas A&M University department of biological and agricultural engineering.
According to Gomes, the same technology can be developed to detect other pathogens like E. coli, but listeria was chosen first because it can survive even at freezing temperatures. It is also one of the most common foodborne pathogens in the world and the third-leading cause of death from food poisoning in the U.S.
Currently the only means of detecting listeria bacteria requires highly trained technicians and processes that take several days to complete. Listeria contamination sources can be a moving target that is often missed by current technology.
The prototype biosensor chip Gomes developed is a little smaller than postage stamp and even at this early stage of development the sensor can detect as little as one bacterium in about one ounce of food product.
The biosensor is still in the early stage of development, but in a few years she envisions a hand-held device that will require hardly any training to use.
Gomes is collaborating with Dr. Eric McLamore at the University of Florida at Gainesville.
For more information visit Texas A&M's website.
­