Gartner Announces the Top 10 Government Technology Trends for 2023
Gartner, Inc. identified the top 10 government technology trends for 2023 that can guide public sector leaders in accelerating transformation as they prepare for post-digital government. Government CIOs should consider the impact of technology trends and apply insights to improve business capabilities, achieve leadership priorities, and create a future-ready government organization.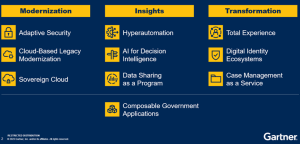 Highlights include:
Adaptive Security – By 2025, 75% of government CIOs will be directly responsible for security outside of IT, including operational and mission-critical technology environments. This requires an integrated security approach that links adaptive security to broader digital innovation, transformation, national security, and resilience objectives.
Cloud-Based Legacy Modernization – CIOs can use adaptive sourcing strategies to identify areas where "as-a-service" delivery augments internal resources and addresses business priorities. Over 75% of governments will operate more than half of workloads using hyperscale cloud service providers by 2025.
Sovereign Cloud – Global uncertainty, data privacy concerns, and potential government overreach, result in greater demand for sovereign clouds. Gartner predicts over 35% of government legacy applications will be replaced by solutions developed on low-code application platforms maintained by fusion teams by 2025.
Hyperautomation – 60% of government organizations will prioritize business process automation by 2026, up from 35% in 2022. CIOs must align automation initiatives with current priorities to pursue digital transformation and optimize operational costs.
AI for Decision Intelligence – 60% of government AI and data analytics investments will directly impact real-time operational decisions and outcomes. CIOs must ensure data is available at decision points and by effective governance principles.
Data Sharing as a Program – By year-end 2023, 50% of government organizations will establish formal accountability structures for data sharing, including data structure, quality, and timeliness standards.
Total Experience (TX) – By 2026, total experience (TX) approaches will reduce process ambiguity by 90% and increase satisfaction metrics for customer experience (CX) and employee experience (EX) by 50%.
Digital Identity Ecosystems – Over a third of national governments will offer citizens mobile-based identity wallets by 2024. To achieve this, governments must make high-assurance digital identity easy to obtain and relevant for diverse target groups of end users and service providers.
Case Management as a Service (CMaaS) – The integration of government services depends on designing and developing case management solutions as composable products and services that can be shared across the programs, verticals, and levels of government. By 2024, agencies using composable case management will implement new features 80% faster than their peers.
Composable Government Applications – Governments can successfully break down legacy, siloed systems and data stores by applying a composable architecture, adopting a modular approach to application architecture, and by exploiting rapid advancements in automation and machine learning.
Gartner clients can read more in the report "Presentation: Top Technology Trends in Government for 2023."