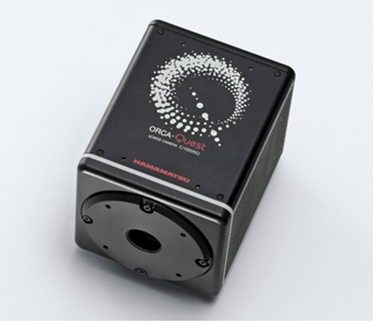 Hamamatsu launches first photon-number-resolving, low noise 9.4 megapixel scientific camera
Hamamatsu Photonics released a new scientific camera called the ORCA-Quest qCMOS camera (C15550-20UP), featuring incredibly low noise of 0.27 electrons rms and a pixel count of 9.4 megapixels.
The photoelectric noise generated when light is converted into electrical signals determines the lower detection limit of the camera. The ORCA-Quest reduces this photoelectric noise to a level below the signals generated by photons (particles of light), which are the minimum unit of light. The ORCA-Quest is the world's first camera to achieve 2D photon-number-resolving measurement, accurately measuring the number of photons to create an image.
The camera's ability to identify the number of photons creates new possibilities. For example, the ORCA-Quest accurately observes the quantum state by quantitatively imaging the amount of light from ions and neutral atoms. This makes it a promising tool for speeding up research and development work on quantum computers and other quantum technology. It also is likely to find applications in the astronomical research and life science fields.
The camera features a new high-performance CMOS (complementary metal-oxide semiconductor) 2D image sensor, designed and fabricated using unique in-house design and manufacturing technologies. This sensor delivers excellent performance with incredibly low noise (0.27 electrons rms), high pixel count (4096 x 2304), and high resolution, yet attains high-speed readout. Features also include a back-illuminated structure, 4.6 µm x 4.6 µm pixel size, reduced crosstalk between pixels, and suppressed variations in the electrical characteristics of each pixel.
For more information about the ORCA-Quest camera, including pricing and delivery time, please contact Hamamatsu Corporation at the company's website, https://www.hamamatsu.com.
Original Release: PR Newswire