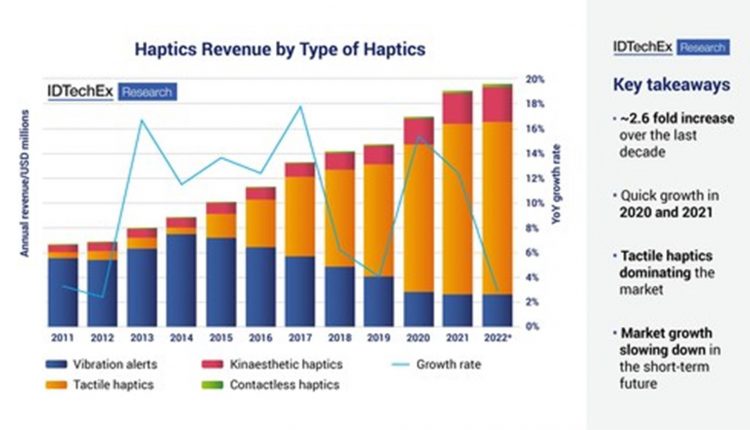 Haptics Opportunities in the Future
Since Apple first launched its custom linear resonant actuator (LRA), Taptic Engine, in 2015, the market has moved beyond the simple rumbling and vibration of those days. It has shifted to high-definition tactile feedback giving a wide range of sensations. This market change drove rapid growth until 2017, then lay dormant until 2020 and 2021, when the Sony DualSense controller launched. The sales of many haptics-relevant devices surged due to COVID lockdowns, which led to the second wave of quick increase in the market revenue.
IDTechEx released its latest report, "Haptics 2023-2033: Technologies, Markets, and Players", which includes historical data and market forecasts from 2010-2033. Although IDTechEx is optimistic about the long-term market, revenue growth is forecast to slow in the next few years, caused by the commoditization of the incumbent technologies, LRAs, and eccentric rotating mass (ERM) motors, and the saturation of relevant device sales.
Market players are now planning how the industry can continue to grow regardless of these factors. One way is by driving toward more advanced and high-value haptic technologies. There are significant emerging options in the market, from other electromagnetic actuators (e.g., voice coil motors) to other technologies such as piezoelectric actuators (ceramic, composite, and polymer based), shape memory alloys, microfluidics, electrostatic systems, and more. The report offers a thorough technological assessment and benchmarking, examining the commercial potential of the emerging technologies in the future market.
In the report, IDTechEx addresses this consideration by providing abundant case studies in different categories, including contactless haptics, button haptics, display/surface haptics, and kinaesthetic haptics. These categories have dedicated chapters, as each exhibits separate trends within the broader ecosystem. The report looks into different industries across smartphones, wearables, gaming, AR, VR & MR, automotive, and related products, discovering the emerging trends for haptics in these fields.
Visit www.IDTechEx.com/Haptics for more information on this report or www.IDTechEx.com/research for the complete research portfolio.