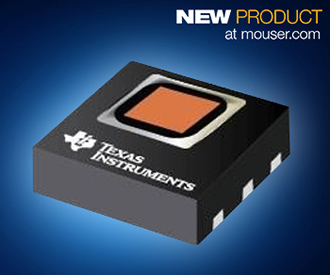 HDC1050 Sensor Offers Low-Power, Accurate Temp and Humidity Measurements
Mouser Electronics is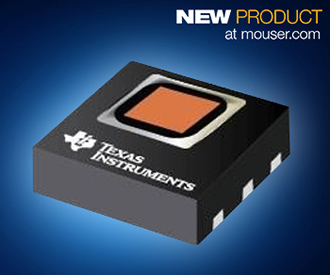 now stocking the HDC1050 low-power digital humidity sensor from Texas Instruments. Combining factory-calibrated humidity- and temperature-sensing elements, the HDC1050 device provides up to 14-bit measurement resolution and excellent accuracy at very low power.
The Texas Instruments HDC1050 low-power digital humidity sensor, available from Mouser Electronics, is available in a 3 mm × 3 mm PWSON 6-pin DMB package, and provides high accuracy levels while consuming low power across a wide 2.7V – 5.5V operating voltage range. The device offers a typical relative humidity (RH) accuracy of ±3 percent and temperature accuracy of ±0.2 degrees Celsius at a low supply current of only 1.3 µA (at 1sps, 11-bit RH and temperature measurement), with output through an I2C interface. In battery or power-harvesting applications, the sensor spends most of its time in sleep mode, during which it consumes only 100 nA (typical). The HDC1050 sensor features wide operating temperature ranges of –40 degrees Celsius to +125 degrees Celsius for the temperature sensor and –20 degrees Celsius to +60 degrees Celsius for the humidity sensor.
Mouser is also stocking the HDC1050EVM evaluation module, a plug-and-play system for testing the HDC1050 sensor. The module uses a USB interface for control and data streaming, and can be plugged into a PC USB port. With the simple GUI, humidity and temperature measurements can be streaming within a matter of seconds after the EVM is attached to a PC and the GUI is started.
The HDC1050 sensor meets the needs of many sensor applications, including wireless sensing, handheld meters, industrial controls, thermostats/humidistats, HVAC, medical devices, and consumer appliances.