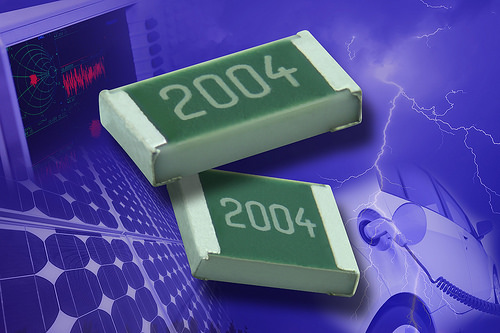 High-voltage thin film flat chip Vishay resistors enable precise voltage measurement
Vishay Intertechnology introduced a new series of high-voltage thin film flat chip resistors that is the industry's first to combine precision properties — low VCR < 1 ppm/V, tight tolerances to ± 0.1 %, and low TCR down to ± 10 ppm/K — with high operating voltages to 1000 V. With typical thin film chip resistors in comparable case sizes only offering voltages to 200 V, Vishay Draloric TNPV e3 series devices reduce component counts to save board space and lower costs in precision high-voltage circuits by replacing larger resistors and multiple devices in similar case sizes. Special high-voltage thick film resistors can also be replaced, which allows for significantly enhanced performance due to superior voltage coefficient and unrivaled precision properties at high voltages.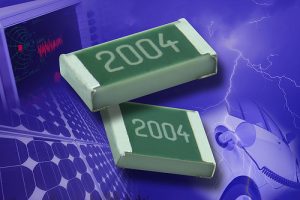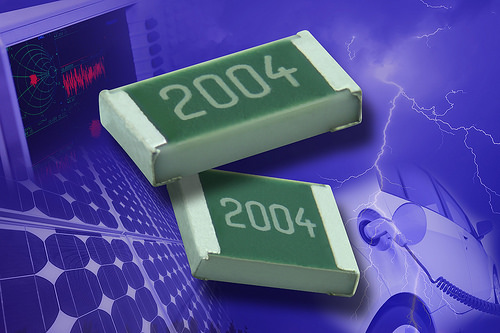 Available in the 1206 and 1210 case sizes, Vishay's TNPV e3 series covers a resistance range from 121 kΩ to 3.01 MΩ, operates over a temperature range of -55 °C to +125 °C, and offers rated dissipation to 0.33 W at an ambient temperature of 70 °C. The resistors are extremely stable and reliable in various environmental conditions, as confirmed by their excellent load-life stability of ≤ ± 0.05 % for 1,000 hours at rated power and +70 °C, superior moisture resistivity for operation at 85 °C and 85 % relative humidity for 1,000 hours, and sulfur resistivity in accordance with ASTM B 809.
These specifications allow designers to use the RoHS-compliant and halogen-free devices for most fields of modern electronics where precision, reliability, and stability at high operating voltages are primary concerns. Precise voltage measurement is essential for various industrial and automotive high-voltage applications, including power and frequency inverters for photovoltaics, wind energy, and electric vehicles (EVs) and hybrid-electric vehicles (HEVs); battery management systems for EVs and HEVs; lighting; and test and measurement equipment.
Device Specification Table:
Description
TNPV1206 e3
TNPV1210 e3
Case size
1206
1210
Resistance range
160 kΩ to 2 MΩ
121 kΩ to 3.01 MΩ
Resistance tolerance
± 1 %; ± 0.5 %; ± 0.1 %
TCR
± 50 ppm/K; ± 25 ppm/K; ± 15 ppm/K; ± 10 ppm/K
Voltage coefficient VCR
< 1 ppm/V
Rated dissipation (P70)
0.25 W
0.33 W
Maximum operating voltage
700 V
1000 V
Samples and production quantities of the TNPV e3 series resistors are available now, with typical lead times of eight to 10 weeks for larger orders.