Home for the Holidays? How Tech Can Bring Us Together
by Dawn Allcot and Rae Redford
Most of us have been navigating Zoom and FaceTime like pros since the spring. Obviously, video conferencing apps are one of the best ways to stay connected to far-flung family and friends.
But if you think outside the "Brady Bunch boxes" on your screen, technology can bring us closer in many other ways this holiday season, too.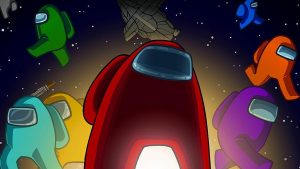 1.
Play Games Online with Friends and Family
Family Zoom calls can be fun, but once you've caught up with loved ones, the screen may fill with awkward silence. After all, it's not like many of us have vacation photos to share this year.
Liven up the party with an online game. "Among Us" is a sleeper hit from June 2018 which earned a revival during the pandemic, perhaps due to its easy and interactive nature. Play with family and friends remotely on a private server through your individual devices. Add a unique twist to the game by running Zoom or Facetime on a separate device, like a laptop, so you can view players' facial expressions as you try to decide who is the "Imposter" on the spaceship.
Similarly, "Heads Up" or "Cards Against Humanity" are also great virtual games to play on individual mobile devices while you chat via Zoom. If you're looking for traditional board games you can play in an online setting, download the Jackbox Party Games Pack for options like Drawful and Fibbage.  
2.
Start a Watch Party to Share Your Favorite Holiday Movies
Not the gaming type? You've got several options for socially distanced movie watching.
You can use apps like Zoom, Facetime, Houseparty, or Skype to watch movies as a group. It's as simple as starting a call and pressing play all at the same time. If you want something a bit more sophisticated, however, you've got several options. 
Teleparty (it used to be Netflix Party) synchronizes video playback and supports group chat for movies on Netflix, Disney+, Hulu, and HBO. This Chrome add-on for your desktop or laptop is easy to use and can get your party started in moments.
twoseven is another PC tool that auto-syncs movies for you. Only available for Chrome and Firefox, twoseven supports YouTube, Amazon Prime, and AppleTV in addition to the streaming platforms available through Teleparty. You can also activate your webcam to see your friends' and family members' reactions while you watch.
Both Amazon Prime and Hulu have built-in watch party features if you all have the same video service, but if you don't, look into Kast. It allows you to share your screen with an audience of up to 100.
3.
Make Holiday Shopping Easier with Online Wish Lists
Online shopping is expected to grow by 34% this holiday season, nearly triple the 12% growth that occurred between 2018 and 2019. Make shopping even easier for your loved ones by creating and sharing an Amazon wish list with the gifts you want the most.
Amazon can even wrap gifts before shipping. Between streamlined shopping experiences, no awkward office holiday parties, and not having to cram 30 people around your dining room table for Thanksgiving dinner this year, holiday stress levels could plummet. You know, if there weren't a worldwide pandemic to worry about.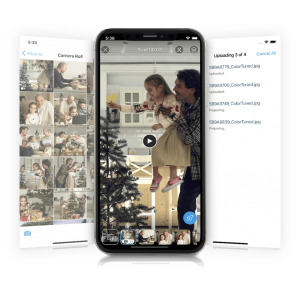 4.
Share Holiday Memories with a Digital Photo Frame
Digital picture frames have been on the market a while, but Nixplay is different.
This smart frame allows your friends and family to all upload photos and videos to your frame with their easy-to-use app. You can invite multiple people to upload to the same playlist or create one for each of them. You can also access multiple frames from the same app.
They've even got a new service, Nixplay Plus. It offers deals on prints, increases the size of the videos you can upload to your frame, allows you to connect up to 10 frames, and increases your cloud storage.
Nixplay is an easy way to share unforgettable moments when you can't be together.
5.
Experience Tech as a Family
Technology can help bring far-flung family members and friends closer this holiday season. But it can also bring you closer to the people who share your house. 
If birthday parades (complete with balloons and elaborate lawn signs), rainbow drawings in windows, and smart home Halloween decorations during the pandemic were any indication, we can expect some over-the-top holiday light shows this year – both in commercial displays and on private homes.
Classic shows like the Miracle on 34th Street in Baltimore and the Bronx Zoo's Holiday Lights will continue their traditions in 2020. But with color-changing, programmable LEDs readily available online and in stores, along with smart tech, homeowners can level-up their light game.
Prepare some travel mugs of hot chocolate, load up your holiday music playlist, and enjoy the ultimate socially distant holiday activity: driving around town looking at light displays and holiday decorations.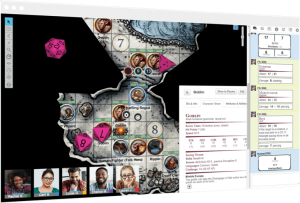 6. The Family that Slays Together, Plays Together
Dungeons & Dragons has seen a resurgence in the past few years, partially due to the success of D&D streams and podcasts like Critical Role, Acquisitions Inc., and Mark Hulmes' High Rollers.
If you're missing your home game or want to start playing, there are several websites that make socially-distanced D&D play possible.
Roll20 and Fantasy Grounds are both virtual tabletops that both have tools that allow DMs to display maps, place monsters, and track initiative. Players can move their pogs, track hitpoints, and keep their character sheets in order. Roll20 even provides voice and video chat options.
World Anvil is a comprehensive site for DMs to world build. It has built-in organization and inspiration tools that help you "create, organize, and store your world settings." With your free account, you can run any of the 30+ supported RPG systems, including D&D, Pathfinder, and FATE.
DnDBeyond is a website for DMs and players. You can purchase Wizards of the Coast content digitally, host your campaign, and organize your characters. DMs can purchase a "Master Tier" account that allows them to share content with their players in your campaigns.
Finally, DiceCloud is a website that offers free character creation with a set of robust tools to organize and manage your stable of characters, whether they're for a campaign, one-shot, or arena.
7. Let Them Know You're Thinking of Them
Being apart from those you love is difficult in the best of times. Let them know you're thinking of them with connected lamps or bracelets.
Bond Touch is "a bracelet for the two of you." Each set comes with two bracelets. A simple touch causes your partner's bracelet to change color or buzz, letting them know they're in your thoughts. With your purchase, you get access to their app that provides a private, safe place for you both. It encrypts and secures the messages and images you share.
Not into jewelry? You can get stylish "friendship lamps" that light up or change color at a touch. No chat app included.
We may not be able to spend this holiday season with all our friends and family, but technology gives us tools to help us feel more connected.
How will you use technology to connect with loved ones this holiday season?