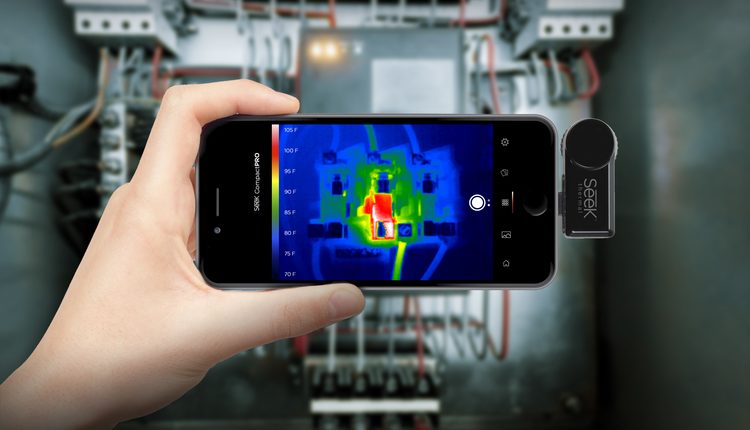 How to turn your smartphone into a thermal camera for under $500
For experts and contractors in industrial and commercial building trades, a thermal imaging camera is a handy tool to have. Typically, thermal cameras can be costly, but Seek Thermal, a company comprised of engineers and designers who create thermal imaging products, has now figured out how to turn any smartphone into a thermal imaging camera for $500.
The device weighs less than 0.5 ounces and provides instant connect-and-detect convenience. The CompactPRO is the first thermal imaging camera built for a smartphone to ever feature 76,800 measurement pixels, a thermal sensor array of 320 x 240, and could help to make thermal imaging technology more easily affordable and available to professionals working in building, electrical, mechanical fields and more.
"The industrial and commercial segment has always been an important focus for our company. High performance thermal imaging tools used to be expensive, difficult to carry, and primarily used by few people in large industrial facilities," said Tracy Benson, CMO/VP of Global Marketing for Seek Thermal. It is one of the most important sensing technologies that can prevent costly damages, increase productivity, and help avoid dangerous situations in hundreds of applications. If we can make it more affordable to find problems faster and easier with high performance imaging quality in portable size devices, we are succeeding at our mission. Our aim is to fit everyone's budget and put smart tools into the hands of more people who can really use it."
The Seek PRO Series will provide those in the commercial building trades and industrial segment with the smart tool-set they need to identify and locate problems quickly, saving time on the job.
The CompactPRO measures object temperatures between -40°F to 626°F, with sensitivity levels <70mK, and contains an adjustable focal lens. It also stores and transfers all radiometric data into a file format for documenting, cataloging, and post-capture analysis of infrared data.
The device is compatible with a mobile app available for download in all iTunes and Google Play stores, which features an entirely new human-centered user design that maximizes the power of the smartphone processor and adds feature-sets engineered for the needs of the commercial and industrial end user.
The Seek CompactPRO will be available through authorized distribution channels in all North American and EMEA markets sells for $499.00 USD.