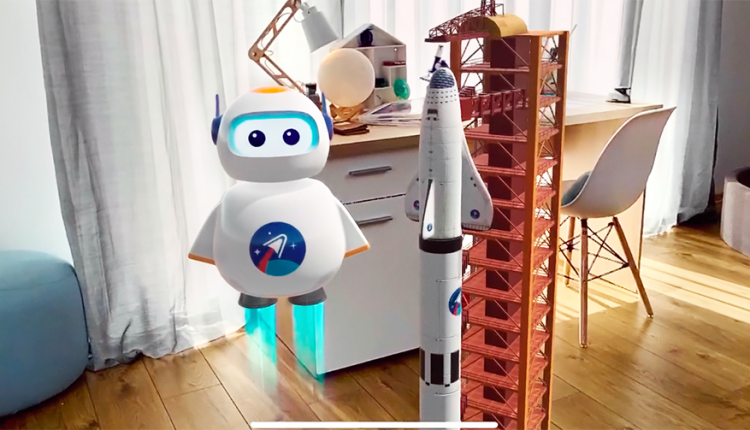 AR-kid: Space – an app that educates children about space with the use of Augmented Reality is available now on the iOS app store. For parents who want their kids to use their mobile devices for something other than Fortnite, this entertaining and fun AR app captures children's imagination and lets them experience a whole new world of story-telling in the comfort of their homes.
Nedd, a multi-awarded creative studio that has developed many apps based on Virtual Reality (VR) and Augmented Reality (AR), has also developed this app. This innovative and educational app is perfect for kids to discover Space and the history of its exploration.
Throughout the experience a robot guide called 'Cosmo' talks to the child and explains all that can be seen around them, making it suitable for children who are not yet able to read or just starting out. This journey through space with Cosmo by their side immerses them into a new world of space while educating in a more entertaining and interactive way.
According to a recent report by Neuro-Insight, AR drives higher levels of visual attention in the brain. That is almost double the effect than that of non-AR tasks. It works by eliciting a surprise response in the brain that increases attention and memory retention by 70%.
When the co-founder of Nedd, Vincent Vella, was thinking of new ways to teach his five year old daughter about space, he tried endlessly to find apps or online solutions suitable for her age with the ability to feed her curiosity. His research didn't find anything that was built to engage kids or have a long-lasting impact on them. That's when Vella decided that AR was a perfect technology to drive an educational app.
"Augmented Reality is the future of education. Our aim is to bridge the gap that exists in the education sector through innovative and immersive technology that can make the education process a lot more fun for kids that not only expands their knowledge but also have lasting impact. We have always thrived for user-oriented experiences and believe that technology is only mean, not and end," said Co-founder, Vincent Vella.
Co-founder, Bruno Samper, added: "If we can combine education with technology we can make screen-time more positive. Immersive technologies – like AR – allow us to bring educational content to the kids in a more engaging and entertaining manner. Education can be fun and impactful when combined with visual experiences and the feeling of physically transporting to a different world, and we hope that this app does just that for the kids."
The app is available to download now in the US ($3.99) on the App Store.