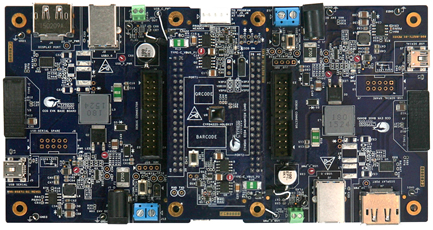 Industry's First Two-Port USB-C Power Delivery Controller for PCs
Cypress Semiconductor Corp announced the world's first two-port USB-C controller with Power Delivery (PD). The new EZ-PD CCG4 controller offers a highly reliable and integrated solution for desktops, notebooks and other systems with two USB-C ports. The controller includes 128KB flash memory that can store dual-firmware images for a fail-safe boot, increasing the reliability of the system, and it enables firmware updates in the field.
The EZ-PD CCG4 controller integrates an ARM Cortex-M0 processor, 128KB flash memory, two 1W Vconn Field-Effect Transistors (FETs) that provide power to USB-C cables, and four analog-to-digital converters (ADCs) that protect the system against overvoltage and overcurrent conditions. Integrated electrostatic discharge (ESD) protection circuits provide system-level protection up to 15kV. CCG4 also contains 4 serial communication blocks, each of which can be configured to I2C, SPI or UART serial protocols.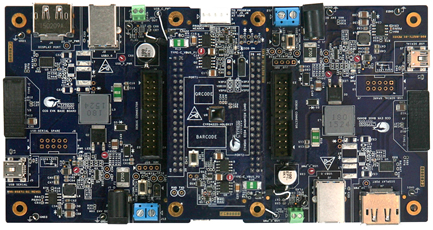 "Cypress's highly-integrated EZ-PD CCG4 controllers enable our top-tier customers to implement multiple USB-C ports by reducing system complexity and bill of materials," said Ajay Srikrishna, vice president of the USB product line at Cypress. "In addition to PCs, the field-upgradeable controllers also enable new multi-port usage models for power banks, monitors and docking stations."
The USB Type-C standard is gaining rapid support with top-tier PC and electronics manufacturers by enabling slim industrial designs, easy-to-use connectors and cables, and the ability to transmit multiple protocols and deliver up to 100W of power. The USB Type-C standard's 2.4-mm-high connector plug is significantly smaller than current 4.5-mm USB Standard-A connector. In addition to the transport of USB signals, DisplayPort and Thunderbolt signals can be delivered over the same connector via the USB Type-C standard's Alternate Mode capability.
Product Availability
Cypress is now sampling the EZ-PD CCG4 controller in a 40-pin QFN package optimized for PCs and accessories. The CY4541 evaluation kit for CCG4 is available for pre-order now and will begin shipping in mid-January 2016.