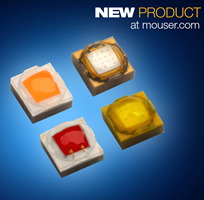 LEDs enable smooth colour mixing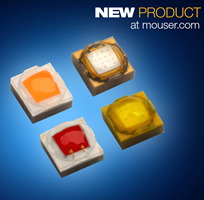 LUXEON C Colour LEDs from Lumileds are in stock at Mouser Elecronics.. These high-power LEDs provide high candelas per lumen and luminance from a small, low-dome source to enable high brightness and precise optical control. The LEDs are available in multiple colours as well as a full range of white CCTs with a single focal length.
The compact 2mm × 2mm LEDs feature a 1.35mm dome and a 0.75mm light emitting surface (LES), with a typical viewing angle of 150 degrees at 50 percent luminous intensity.
When secondary optics are applied, the consistent focal length maximises optical efficiency and provides matching emission patterns, enabling sleek colour mixing without halos.
LUXEON C is the industry's first hot tested colour line, binned with a DC drive current of 350mA at a junction temperature (TJ), of 85 degrees Celsius to ensure consistent performance at application conditions.
The LEDs are built with the industry's lowest thermal resistance substrates (as low as 2.8°C/W), allowing designers to drive the LEDs to maximum potential.
LUXEON C Color LEDs are designed for architecture, horticulture, and emergency vehicle lighting that require narrow beams, maximum CBCP, and smooth colour mixing.