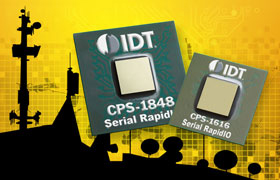 Low-latency interconnect supports both 4G & 5G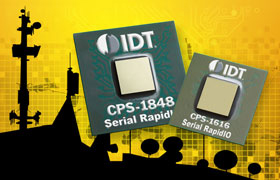 Integrated Device Technology announced its RapidIO Gen2 products have been adopted by Fujitsu in their latest generation of wireless base stations. These systems are being deployed in production today in support of Cloud Radio Access Network (C-RAN) cellular network architectures and LTE and next generation LTE-A wireless standards, among others.
The 20 Gbps RapidIO Gen 2 interconnect enables the scaling of large pools of heterogeneous processors required for C-RAN, as well as mobile edge compute. These systems are able to scale from simple architectures with a few processors, to large systems supporting many users and processors connected via a 100ns latency RapidIO fabric.
"We're excited by the production deployment of Fujitsu's cellular base station systems based on IDT's RapidIO technology. This strongly demonstrates RapidIO's ability to support large clusters of processors required not only for C-RAN and Supercomputing at the Edge, but also other real-time processing systems such as those in high performance data analytics," said Sean Fan, vice president and general manager of IDT's Interfaces & Connectivity Division. "RapidIO-based systems are solving a new paradigm of processing in this era of explosive growth of live streaming data and emerging applications such as video transcoding and analytics and machine-to-machine communications for safety and control functions in autonomous vehicles."
"A low-latency interconnect is one of the keys to building large scale systems," said Corey Bell, CEO of Open Compute Project (OCP). "There are many similarities between C-RAN systems and high performance computing, with the need for low latency any-to-any inter processor communication. With RapidIO technology connecting 100 percent of 4G base stations and now its emergence in the new C-RAN deployments, we are excited to collaborate with IDT on the path to applying this technology for the OCP high performance compute projects."
IDT's upcoming next generation RapidIO 10xN technology supporting 40 Gbps with a roadmap to 100 Gbps will provide wireless infrastructure systems the technology to evolve to 5G and beyond. RapidIO's performance, scalability, and energy efficiency will enable the future of continued convergence of communications and high performance compute, driven increasingly by the demands of mobile access.