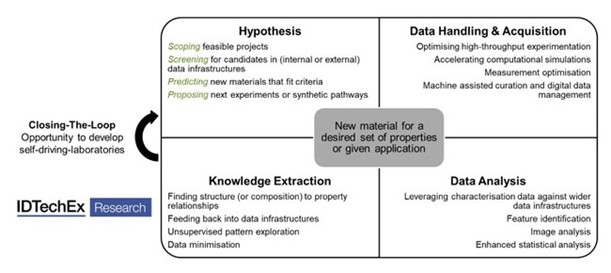 Materials Informatics will Revolutionize the 3D Printing says IDTechEx
One thing that will be central to growth of the 3D printing market will be the materials. Materials informatics is a new field involving data-centric approaches to materials R&D and is impacting many sectors, including 3D printing.
Materials informatics can play a role at every stage of research. If this loop can be closed without human intervention, it even opens the opportunity for self-driving-labs.
IDTechEx forecasts the market to be worth $18.4bn by 2030 for 3D printing materials alone. The metal additive manufacturing market is anticipated to grow to $15.5 bn by 2030 after a period of decline brought upon by the COVID-19 pandemic. There is a large amount of change in this field; within the powder supply chain, there are multiple targeted acquisitions and expansions and innovation. Beyond metals and polymers, there is a huge amount of attention going into ceramics, composites, multi-material solutions, and more, all with their own challenges and disruptors. A key barrier to adoption across the field has been the range of materials available and their properties. Materials still need to be engineered for each printing process and application.
Materials informatics (MI) is one of the most exciting areas in materials science. Primarily, MI is based on using data infrastructures and leveraging machine learning solutions for the design of new materials, the discovery of materials for a given application, and/or the optimization of how they are processed. MI can accelerate the "forward" direction of innovation. In many cases, the data infrastructure is not comprehensive, and MI algorithms are often too immature for the given experimental data. The challenge is not the same as in other AI-led areas.
IDTechEx has covered this topic in detail, and more information on the technology, players, and application areas can be found in the market report.
Original Source: PR Newswire