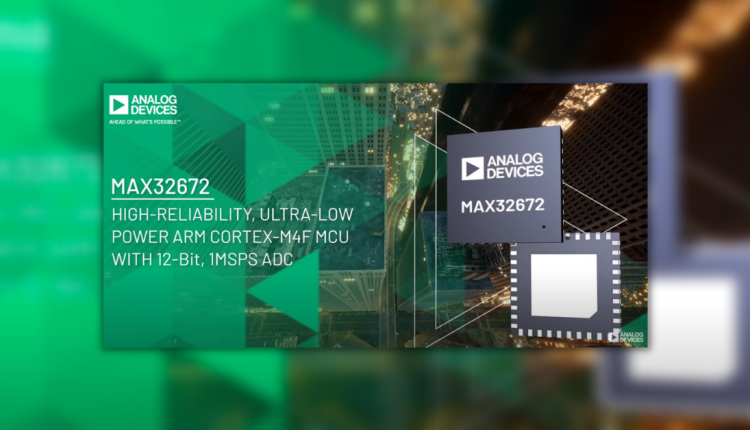 Revolutionizing Sensor Processing in Power-Sensitive Applications
The DARWIN family of microcontrollers has a formidable new member, the MAX32672, poised to redefine sensor-based design in battery-powered devices. This ultra-low-power, cost-effective, 32-bit microcontroller is the perfect solution for developers looking to incorporate complex sensor processing without sacrificing battery life >> Learn more about the MAX32672.
Unmatched Power and Performance
At the heart of the MAX32672 is the powerful Arm® Cortex®-M4 processor with a floating-point unit (FPU), blending high-efficiency processing with sophisticated power management. This potent combination ensures that even the most complex of tasks are handled with ease, all the while maintaining an energy profile that is crucial for battery-dependent designs.
Seamless Upgrade and Enhanced Reliability
The microcontroller stands out as an optimal upgrade for legacy systems, providing a smooth transition from 8- or 16-bit microcontrollers to a more robust 32-bit environment. The integration of 1MB of flash and 200KB of SRAM, bolstered by ECC on all memory components, promises exceptional reliability for code execution, crucial for devices operating in unpredictable conditions. The dual-bank flash architecture further enables "live upgrades" by allowing execute-while-write capability.
Comprehensive Communication and Control
With high-speed peripherals including 3.4MHz I2C, 50MHz SPI, and UART, the MAX32672 ensures substantial communication bandwidth. The LPUART feature particularly stands out for its ability to wake the device from the lowest power sleep modes without data loss. This capability, combined with six versatile timers and an incremental/quadrature encoder interface, makes the microcontroller ideal for motor control applications and similar tasks where precise timing is key.
Precision Analog and Digital Integration
For analog sensing, the device offers a 1Msps, 12-channel, 12-bit SAR ADC, enabling accurate digitization of sensor signals. Two low-power comparators work across all power modes, supporting vigilant monitoring and responsive wake-up on external analog signals.
Security and Form Factor Flexibility
Security is a non-negotiable aspect of modern microcontrollers, and the MAX32672 addresses this need with an ECDSA-based secure bootloader. With packaging options including a 5mm x 5mm, 40-pin TQFN-EP or a larger 7mm x 7mm, 56-pin TQFN, it offers flexibility for various design specifications.
Targeted Applications
The MAX32672 is engineered to drive innovation in:
Battery-Powered Medical Devices: ensuring patient safety and device reliability where power efficiency is paramount.
Motion/Motor Control & Industrial Sensors: offering robust control and processing capability in a power-conscious package.
Optical Communication Modules & Secure Radio Modem Controllers: enabling high-speed data transmission and secure communications in compact, battery-operated devices.
In conclusion, the MAX32672 microcontroller from the DARWIN family sets a new standard for energy-efficient, high-performance sensor processing, making it an essential component for designers in an array of power-sensitive applications.