Mercedes Benz to develop fleet of autonomous delivery robot vans
A while back we introduced you to Starship Technologies, the start-up trying to transform the delivery industry with its fleet of friendly sidewalk robots.
Well now the company has teamed up with Mercedes-Benz Vans to take autonomous delivery a step further with Robovan —the worlds first transportation system that integrates specially-adapted vans with autonomous delivery robots to allow for efficient delivery of goods around the neighborhood.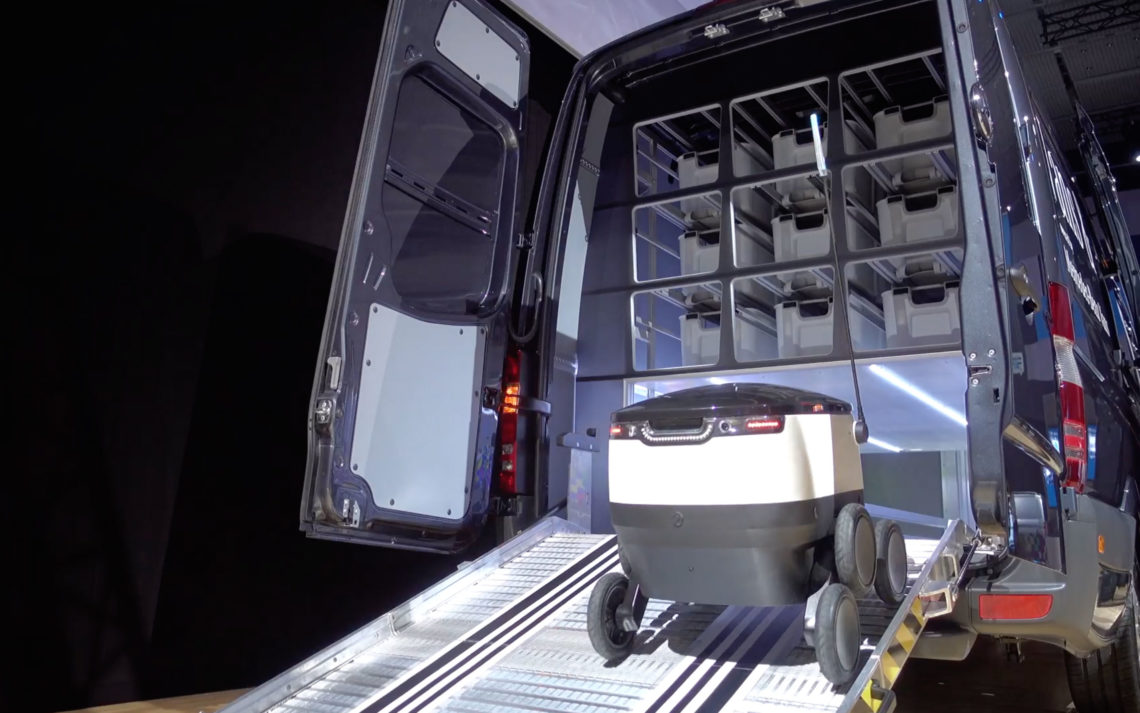 The  Robovan system will work like this:  Mercedes-Benz Sprinter vans will serve as the motherships and house eight delivery robots. The vans will drive through neighborhoods, and stop at designated locations, based on delivery density and demand, to drop off and pick up robots to complete customer deliveries.
The system eliminates the potential dangers that can come along with having robots walking on the sidewalks.
"Starship Technologies has solved the last mile problem by introducing sidewalk delivery robots. However vans are best suited to bring goods to the local area from businesses and distribution centers. When the two transportation methods converge into one, the outcome is the most efficient, cost effective and convenient local delivery method in the world'', said Ahti Heinla, CEO of Starship Technologies.
Instead of completing door-to-door delivery, the vans will drive to pre-agreed locations to load and unload goods and then dispatch the robots in the final step for on-demand delivery. Once a robot makes a customer delivery, it will autonomously find its way back to the van for re-loading.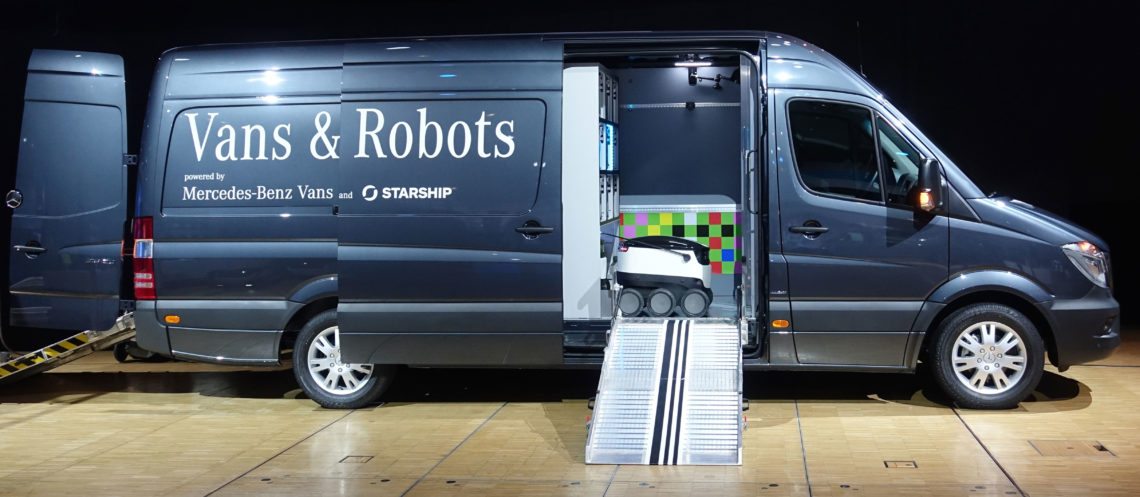 The Robovan will also house the goods for delivery and robots will take them using a racking system that enables 400 packages to be delivered every 9 hour shift, compared to 180 packages using previously available methods— an increase of over 120%.
"A typical van delivery today involves driving to a delivery area, and then spending an entire day on door-to-door deliveries. By leaving the door-to- door part to delivery robots the van drivers' productivity will significantly rise while reducing congestion on the streets and CO2 emissions" said Allan Martinson, Starship's Chief Operating Officer.
According to Mercedes-Benz Vans, there is huge potential for robotic delivery systems in the future and by combining vans and the robots.
"Working together is like having best of both worlds – the power of a leading van manufacturer combined with the agility and spirit of a startup," said Volker Mornhinweg, Head of Mercedes-Benz Vans
Starship Technologies' delivery robots have now covered over 7,456 miles around the world in 12 countries and 47 cities, coming into contact with over 1.2 million people.
More information at Starship Technologies.