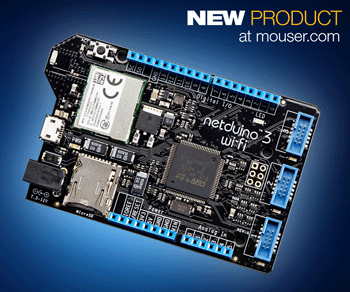 Mouser Introduces Netduino 3 for Fast Prototyping
Mouser Electronics is now stocking the Netduino 3 electronics platform, which enables both quick-to-market commercial hardware solutions and personal electronics projects with maximum design flexibility and reduced risk. This newest version of the open-source Netduino platform includes the best of the features that made previous versions popular, with added Wi-Fi connectivity.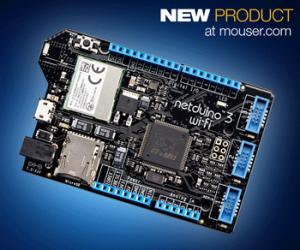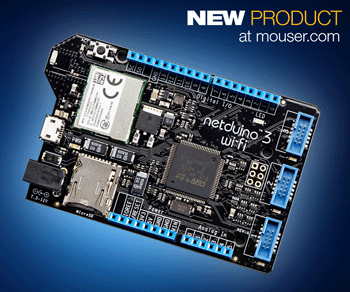 Netduino 3, now available from Mouser Electronics, is an open-source electronics platform designed around the Microsoft .NET Micro Framework, combining the ease of high-level coding and the raw feature set of the STM32 F4 family of microcontrollers.  The 32-bit STM32F427VG microcontroller on the Netduino 3 base model features a 168MHz ARM Cortex-M4 processor with 1MByte of dual-bank read-while-write flash memory, and the Netduino 3 WiFi and Ethernet models include an STM32F427VI with 2 MBytes of dual-bank flash memory. All Netduino 3 boards boast up to 256 kbytes of SRAM, including 64 kbytes of core-coupled memory (CCM). The Netduino 3 WiFi board supports 802.11b/g/n (2.4GHz) Wi-Fi across open networks as well as through WEP and WPA2 protocols, and includes support for SSL 3.0 security, including TLS 1.2. The Netduino 3 Ethernet board features a 10/100 Mbps Ethernet port.
Like Netduino 2, the new version features Arduino-compatible headers, including 22 GPIO pins with SPI, I2C, four UARTs (one RTS/CTS), and six PWM channels as well as six 12-bit analog-to-digital converter (ADC) channels. The board also boasts three GoBus 2.0 ports for additional plug-and-play capabilities and a microSD slot for up to 2 GBytes of storage. Netduino 3 also includes upgradable firmware for increased functionality in the future.
To learn more, visit http://www.mouser.com/new/netduino/netduino-netduino-3/.
With its broad product line and unsurpassed customer service, Mouser caters to design engineers and buyers by delivering What's Next in advanced technologies. Mouser offers customers 21 global support locations and the latest, most technologically advanced components for their newest design projects. Mouser Electronics' website is updated daily and searches more than 10 million products to locate over 4 million orderable part numbers available for easy online purchase. Mouser.com also houses an industry-first interactive catalog, data sheets, supplier-specific reference designs, application notes, technical design information, and engineering tools.
About Mouser
Mouser Electronics, a subsidiary of TTI, Inc., is part of Warren Buffett's Berkshire Hathaway family of companies. Mouser is an award-winning authorized semiconductor and electronic component distributor, focused on the rapid introduction of new products and technologies to electronic design engineers and buyers. Mouser.com features more than 4 million products online from more than 500 manufacturers. Mouser publishes multiple catalogs per year providing designers with up-to-date data on the components now available for the next generation of electronic devices. Mouser ships globally to over 500,000 customers in 170 countries from its 492,000 sq. ft. state-of-the-art facility south of Dallas, Texas. For more information, visit www.mouser.com.