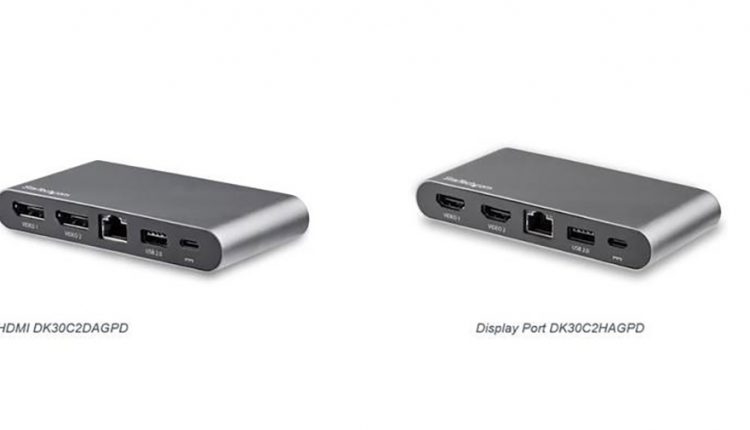 StarTech.com
Multiport adapters feature displayport alt mode switch
Two new dual display USB-C multiport adapters/mini docks have been introduced by StarTech.com, to its continuously expanding USB-C connectivity line. With support for Power Delivery 3.0 and dual 4K display, these multiport adapters (HDMI: DK30C2HAGPD and DisplayPort: DK30C2DAGPD) take on-the go productivity and flexibility with a Windows laptop to the next level.
Perfect for compact workstations or the road warrior, these new USB-C multiport adapters support HDMI (DK30C2HAGPD) or DisplayPort (DK30C2DAGPD), providing exceptional performance at your desk, on-the-go or when making conference room presentations. For a compact workstation, users can connect to dual monitors, ethernet and extra USB Type-A ports without having to sacrifice valuable desk real estate for the dock. When it's time for a meeting, the compact size of these mini-docks makes it easy for users to take them into the boardroom and present their content. Users can effortlessly showcase their material across two monitors, making presentations requiring two displays, no longer an obstacle.
The true differentiator for these adapters is the inclusion of a DisplayPort Alt Mode switch. This switch allows users to choose between higher display resolutions or faster USB speeds. It ensures that, depending on the user's specific needs, they can get the most out of their device's performance when using the adapter. Choose dual 4K30 (or single 4K60) resolution with USB 2.0 port speeds if applications require better display resolutions with more basic USB devices connected (such as keyboard and mouse). Users can easily switch to the faster USB 3.0 and downgrade display resolution to dual 1080p (or single 4K30) when more focus on transfer speed is required (such as external hard drive).
The incorporation of Power Delivery 3.0 (PD 3.0) in the adapters is also a critical component of the enhanced user experience. These multiport adapters can be powered from the laptop, or with support for up to 100W PD, can power any attached peripherals and charge your laptop (up to 85W) when connected to a USB-C power adapter, which is available with many USB-C laptops. A key feature of PD 3.0 is Fast Role Swap which prevents USB data disruption when switching power sources. Users can confidently unplug the power adapter and switch to bus power without worrying that their workflow and data transfer will be interrupted.
"This new series of USB-C dual monitor multiport adapters provides users reliable connectivity and unbeatable versatility in a small, compact device," said Carey Cline, Senior Product Manager at StarTech.com. "The user can choose between better display resolution or faster data transfer, while also experiencing the latest power delivery (laptop charging) technology. Our continued focus on expanding our broad line of multiport adapters is helping to ensure that regardless of the specificity of the customer's needs, we'll have a multiport adapter that is perfect for completing their solution."
The new USB-C dual monitor multiport adapters will be available at PC World Business, BT Business Direct, BT Shop UK, Amazon.co.uk, and Dell UK, and will be distributed by Ingram Micro UK, Exertis and CMS Distribution.