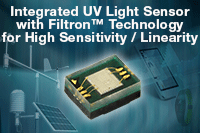 New Vishay Intertechnology Integrated UV Light Sensor Features Filtron UV Technology for High Sensitivity and Linearity
The Optoelectronics group of Vishay Intertechnology, Inc. introduced a new integrated ultraviolet (UV) light sensor featuring Filtron™ UV technology for high UV sensitivity and linearity. Designed to convert solar UV light intensity to digital data in consumer, medical, and industrial applications, the Vishay Semiconductors VEML6070 incorporates a photo-pin-diode and signal processing IC in a compact 2.35 mm by 1.8 mm by 1.0 mm surface-mount package, while offering an I2C bus interface for simple operation.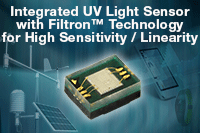 The device released today is optimized for UV detection in smartphones, health monitoring and fitness products, flame detectors, and weather stations. The sensor saves space by incorporating the circuitry needed for these applications in one compact unit, while a robust refresh rate setting lowers costs and simplifies designs by eliminating the need for an external RC low pass filter. The VEML6070 offers high dynamic detection resolution and excellent performance under long-term solar UV exposure, while an active acknowledge (ACK) feature with threshold window settings sends out UVI alert messages under strong solar conditions.
The VEML6070's built-in photo-pin-diode offers spectral sensitivity from 280 nm to 400 nm, with a peak sensitivity wavelength of 355 nm. The sensor provides fluorescent light flicker immunity, a software shutdown mode to reduce power consumption to < 1 µA, and excellent temperature compensation stability from -40 °C to +85 °C. The device features an operating voltage and I2C bus voltage range of 2.7 V to 5.5 V and is offered in a lead (Pb)-free OPLGA package. The VEML6070 is RoHS-compliant, halogen-free, and Vishay GREEN.
Samples and production quantities of the new UV light sensor are available now, with lead times of six to eight weeks for large orders.
Vishay Intertechnology, Inc., a Fortune 1000 Company listed on the NYSE (VSH), is one of the world's largest manufacturers of discrete semiconductors (diodes, MOSFETs, and infrared optoelectronics) and passive electronic components (resistors, inductors, and capacitors). These components are used in virtually all types of electronic devices and equipment, in the industrial, computing, automotive, consumer, telecommunications, military, aerospace, power supplies, and medical markets. Vishay's product innovations, successful acquisition strategy, and "one-stop shop" service have made it a global industry leader.