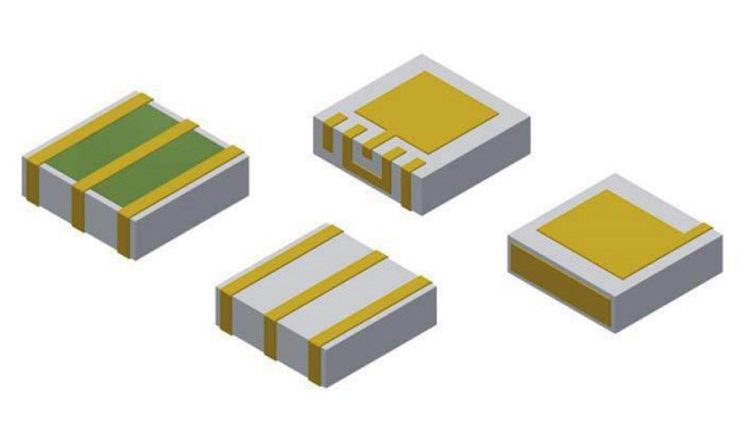 New Vishay Intertechnology Custom Substrates With Sidewall Patterning Increase Design Flexibility and Density
Vishay Intertechnology, Inc. announced that it has added a new sidewall patterning capability to its custom thin film substrate offering. This capability allows Vishay to provide conductive patterning on up to four surfaces with compact line width and gap dimensions, increasing design flexibility and density for miniaturization in military, aerospace, medical, and telecom equipment.
Unlike traditional solutions with plated or filled vias, the Vishay Dale Resistors Electro-Films product line offers SDWP substrates that accommodate die attach or wire bonding on side walls as well as the top-side. Compared to wire bonds, side-patterned connections have lower inductance and therefore operate better at high frequency. This makes the devices ideal for custom circuits in electro-mechanical or electro-optical applications, high-frequency circuits in RF applications, and high-bit-rate transceivers (TOSA/ROSA).
With this new capability, designers can provide continuity between the top and bottom of a die, connect wire bonds to the traces on the side of the die, or make contact with the side of the die with a pin. The SDWP also allows designers to mount a die on the substrate and then position the substrate in an assembly standing up, with a wire bond placed on what has become the "top" of the substrate. This allows for better integration with the optical elements of the design, including fibers, prisms, and lenses.
SDWP substrates feature a plate thickness of ≤ 0.025 in, a minimum line width and gap of ≥ 0.003 in, and tight line width and gap tolerances down to ± 0.001 in. Compared to thick film solutions, the thin film devices offer 2x to 3x smaller line width and gap dimensions and tighter dimensional tolerances. The substrates are available in a variety of metals systems, including TiW/Au/Au plate, TiW/Au/Ni plate/Au plate, and Cr/Cu/Cu plate/Ni plate/Au plate.
Samples and production quantities of the SDWP substrates are available now, with lead times for four weeks.