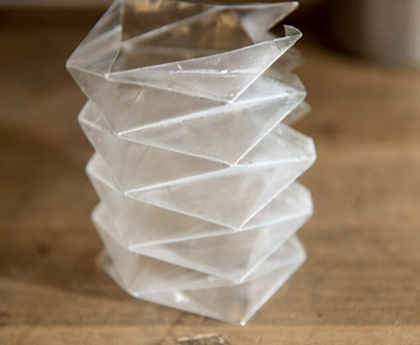 Origami Could be the Key to Long-Distance Space Travel
Fuel storage and transport is a major limiting factor in space travel, relegating travel to short trips when large amounts of cargo are to be moved. Early fuel bladder designs included round balloons for liquid hydrogen, which gave way to the use of metal plates and surface tension to manage liquid fuels—which is slow, dribbling out fuel in small quantities.
WSU researchers are using the Japanese art of origami to solve the storage and movement of fuel to rocket engines, an important challenge for space travel. Their new fuel bladder combines an innovative plastic bladder that does not crack even at ultra-cold temperatures combined with an origami-based design that spreads stresses of the material so that it is less likely to tear.
Led by graduate student Kjell Westra and Jake Leachman, associate professor in the School of Mechanical and Materials Engineering, the team published its work in the journal, Cryogenics.
Westra was inspired by a paper that described origami-based bellows and began using the design for the fuel bladder. Once the plastic was folded, it was tested in liquid nitrogen at approximately 77 degrees Kelvin. The resulting bladder can be squeezed at least 100 times without breaking or leaking under cold conditions. More rigorous testing is currently underway.
Westra recently received a NASA graduate fellowship to continue the project. The research was supported through a grant from the Joint Center for Aerospace Technology Innovation (JCATI) in collaboration with Blue Origin.