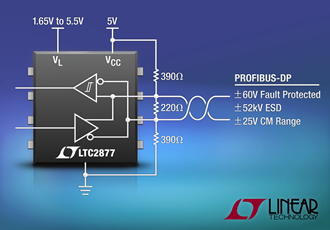 Robust ±60V RS485 Transceivers Fortify PROFIBUS-DP Networks
Linear introduces the LTC2876 and LTC2877, exceptionally rugged, high voltage tolerant RS485 transceivers targeted for PROFIBUS-DP (decentralized periphery) master and slave devices. As with any fieldbus, PROFIBUS-DP systems are prone to installation cross-wiring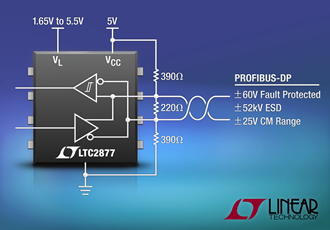 faults, ground voltage faults, or surge, which can cause catastrophic overvoltage conditions that exceed the absolute maximum ratings of typical transceivers. Whether transmitting, receiving, in standby or powered off, the LTC2876 and LTC2877 tolerate ±60V on their bus pins, eliminating common damage due to transmission line faults.
The LTC2876 and LTC2877 provide multiple levels of protection that make them suitable for a variety of PROFIBUS-DP applications, including discrete manufacturing and process automation. An extended ±25V input common-mode range and full failsafe operation improve data communications reliability in electrically noisy environments and in the presence of ground loop voltages, which would otherwise cause data errors and possible device damage. Their incredibly high ESD protection guarantees the LTC2876 and LTC2877 can withstand ±52kV HBM on the transceiver pins without latchup or damage; all other pins are protected to ±15kV HBM. Fully symmetric receiver thresholds ensure the devices maintain good duty cycle symmetry at low signal levels and boost receiver noise immunity, while supporting full failsafe operation. Both devices are tested with PROFIBUS IEC 61158-2 and TIA/EIA-485-A (RS485) loads to ensure compatability with both standards.
The LTC2876 and LTC2877 are offered in commercial, industrial and automotive versions, supporting operating temperature ranges of 0°C to 70°C, -40°C to 85°C, and -40°C to 125°C, respectively. The LTC2876 is available in an RoHS compliant 8-pin 3mm x 3mm DFN or MSOP package, while the LTC2877 includes a logic supply and is available in an RoHS compliant 10-pin 3mm x 3mm DFN or MSOP package. Pricing starts at $2.48 each in 1,000 piece quantities.