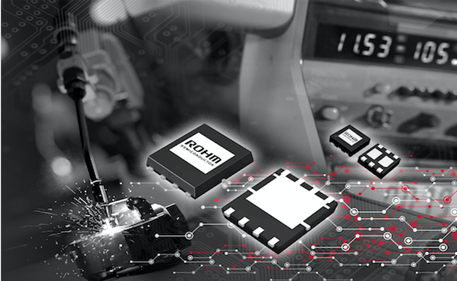 ROHM P-Channel MOSFETs Claim Class-Leading Low ON Resistance
ROHM Semiconductor launched a 24-model lineup of 24V input, -40V / -60V withstand voltage P-channel MOSFETs available in both single and dual configurations targeting such industrial and consumer applications as factory automation, robotics, and air conditioning systems.
The low ON resistance -40V / -60V P-channel MOSFETs compatible with 24V input, based on ROHM's P-channel MOSFET structure, leverage refined process technology to achieve the lowest ON resistance per unit area in their class. For -40V products, this means a 62% lower ON resistance than conventional products, and a 52% lower ON resistance for the new -60V products.
The devices are optimized featuring a design that mitigates electric field concentration so that both high reliability and low ON resistance are achieved. The solutions contribute to stable long-term operation in industrial equipment. They are in mass production.