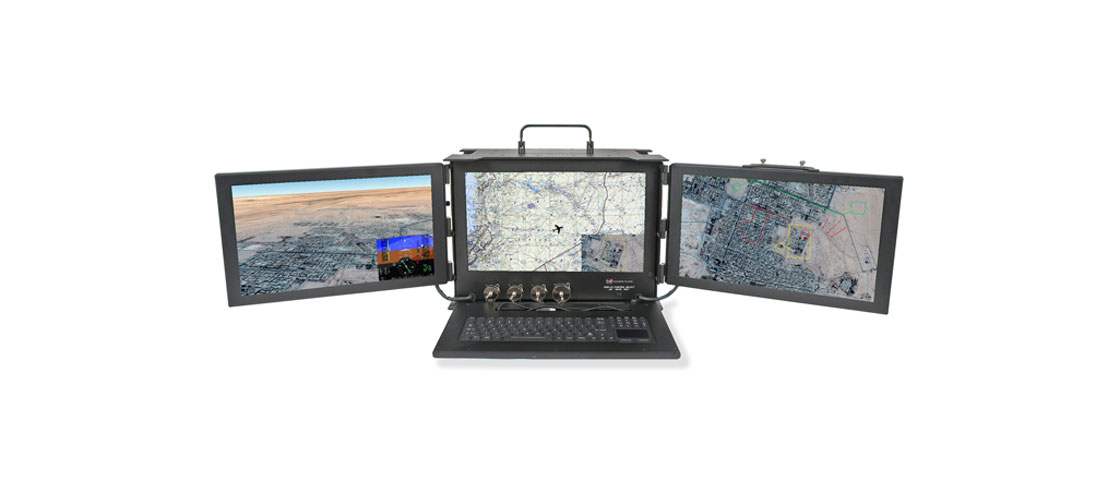 Credit: Chassis Plans
Ruggedized trifold computer for challenging applications
Chassis Plans' MTP family of new rugged portable computers are designed for use in highly challenging real-world military, industrial and commercial applications. This system is very configurable and customizable to a customer's specific needs – this includes a variety of motherboards, processors, expansion slots, IO and network communications and power requirements.
The MTP ruggedized trifold computer offers three 18.5" (1,920×1,080) resolution LCD displays in a small form factor rugged-portable configuration. The total effective viewing area of all three displays together is 5760×1080 pixels. It includes support for Intel Core and Xeon CPU's with up to 32GB of ECC system memory. Motherboard options include a COM Express embedded mainboard as a sealed, conduction cooled unit, or a more traditional ATX motherboard – offering larger expansion capabilities with customers' preferred add-in cards.
System expansion slots include two MINI-PCIe 3.0 and two PCIE 3.0 x8 XMC expansion slots. Four removable 2/5" drive bays provide for JBOD or RAID 0/1/5 hard drive array configurations that can support both SSD and rotating hard drives. The portable comes with a detachable IP67 sealed USB backlit keyboard and touch input device.
With dimensions of 13.2×11.2×18.5, and a weight designed to single-person carry limits in any configuration, the Chassis Plans' MTP Rugged Portable family of computers is suitable for any mobile computing environment. The system can be configured to run off global 85-265V 45-65Hz or 28VDC vehicle power and is specified at time of purchase. It also includes four MIL Spec Connectors for a variety of external inputs like USB's, external hard drives keyboard, etc.
"Our new MTP Family of ruggedized 'Lunchbox' portable computers are highly configurable and extremely durable and reliable, built to MIL-STD 810G specifications," said Mike McCormack, CEO and President of Chassis Plans. "With over 20 years of experience developing and building ruggedized computer and display systems, we are the number one choice for many military, avionic and industrial applications."